Apple's shares will reach $128 in medium term

30 january 2015
Apple (AAPL), one of the world's leading manufacturers of smartphones, tablets, PCs and software, continues to demonstrate good financial results. According to the recently released Q1 2015 report, revenue increased by 29.5% y-o-y to USD 74.6 bn, outpacing the consensus by 10.5%. Revenue was driven by large sales of smartphones, which reached 74.5 mn devices (+46% per year and 90% q-o-q). Sales of Mac computers jumped 14.6% to 5.5 mn, iPad sales fell by 18% y-o-y to 21.4 mn, but increased by 74% q-o-q. Gross margin rose 2 pps y-o-y to 39.9%. EBITDA climbed 36.8% y-o-y to USD 26.8 bn, while EBITDA margin advanced 2 pps to 36%. Adjusted EPS climbed 47.8% y-o-y to USD 3.06, outpacing forecasts by 18%. Apple generated a record cash flow of USD 33.7 bn in the reporting period and spent USD 8 bn to buy back shares. Quarterly dividend amounted to USD 0.47 (+7.9% y-o-y), which matches a 1.7% dividend yield.
The company's management is upbeat about prospects for Q2 2015. Apple expects record revenue, which will be driven by the launch of the long-awaited Apple Watch. According to the company's forecast, sales will reach USD 52-55 bn in January-March (+14.0-20.6% y-o-y). Grossmargin will come in at 38.5-39.5%.
We raised our target price of Apple shares to USD 128 and confirm our Buy recommendation in the medium term. The short-term technical target is USD 120.
<!== INSTRUMENT %% %1440% ==!>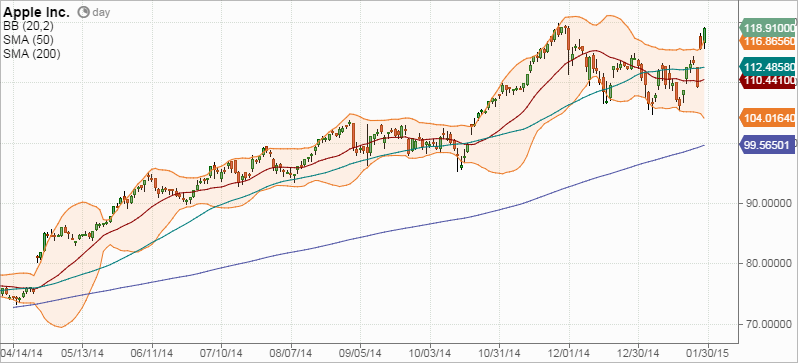 Voting is over
Waiting for


the right answer