Druckenmiller Buys A Lot Of Gold
Stan Druckenmiller is going big on gold.
Druckenmiller is one of the world's most successful and respected traders. As a hedge fund manager from 1986 to 2010, he generated an incredible average annual return of 30%.
Druckenmiller was also George Soros's right-hand man at Quantum, Soros's famed hedge fund. Quantum's now legendary 1992 trade shorting the British pound was Druckenmiller's idea. It made Quantum about $1 billion. People say the trade "broke the Bank of England."
Most professional investors preach diversification. But Druckenmiller says he's successful because he's not afraid to concentrate his bets when he really believes in a trade. He calls it "being a pig."
Druckenmiller's fund recently bought $300 million worth of SPDR Gold Trust (GLD), an ETF that tracks the price of gold. It's a huge bet, even for a big-time trader like Druckenmiller. He put 20% of his fund's money into this trade, and it's his largest position.
Read the full article by Casey Research on their website here.
DAILY PRICES
Today's Gold Prices: USD 1,123.20, EUR 1,017.71 and GBP 716.90 per ounce.
Yesterday's Gold Prices: USD 1,119.15, EUR 1,011.30 and GBP 714.13 per ounce.
(LBMA AM)
On Tuesday, gold finished trading with a small gain of 0.01% or $0.10, closing at $1,117.70/oz. Silver dropped 0.2.87% or $0.44, closing at $14.88/oz. 

Download Essential Guide To Storing Gold Offshore
BREAKING NEWS
Gold marks time ahead of Fed minutes – Reuters
Gold Investors Eye Federal Reserve Minutes for Rate Rise Clues – Bloomberg
China Devaluation Sparks Gold Buying Everywhere — Except China – Bloomberg
Cash-Strapped Venezuela May Sell Off Gold, Citigroup Says – Bloomberg
Greece sells airports to Germans as Bundestag prepares for day of reckoning – The Telegraph
IMPORTANT COMMENTARY
This "Pig" Just Made a Massive Bet on Gold – Casey Research
Is Asian gold demand really low – or at an all-time high? – Lawrieongold
A Flyspeck of Gold versus Infinite Dollars – Moneda De Plata Para México
23 Nations Around The World Where Stock Market Crashes Are Already Happening – Zero Hedge
Unworkable and unreformable, the euro surely cannot survive another serious downturn – The Telegraph
Click on News and Commentary
Download Essential Guide To Storing Gold Offshore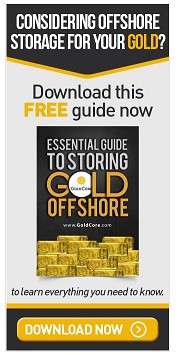 Follow 
https://twitter.com/goldcore
, GoldCore on Facebook, GoldCore on LinkedIn