On Thursday, November 2nd, Apple (AAPL) will release its fourth quarter earnings results after the bell. The company is a Zacks Rank 3 (Hold), and have a Value, Growth, and Momentum score of C.
Dave will look at Apple's past earnings, take a look at what is currently going on with the company, and give us his thoughts on their upcoming earnings announcement.
Furthermore, Dave will uncover some potential options trades for investors looking to make a play on Apple ahead of earnings.
Apple in Focus
Apple Inc. is engaged in designing, manufacturing and marketing mobile communication and media devices, personal computers, and portable digital music players. The Company's products and services include iPhone, iPad, Mac, iPod, Apple TV, a portfolio of consumer and professional software applications, the iOS and Mac OS X operating systems, iCloud, and a range of accessory, service and support offerings. It sells its products worldwide through its online stores, its retail stores, its direct sales force, third-party wholesalers, and resellers. Apple Inc. is headquartered in Cupertino, California.
Apple is expected to report earnings at $1.87 per share according to the Zacks Consensus Estimate. Last quarter they beat earnings expectations by 6.37%. They reported earnings at $1.67per share, beating their estimate of $1.57. They have an average earnings surprise of 3.82% over the last 4 quarters.
Apple Inc. Price, Consensus and EPS Surprise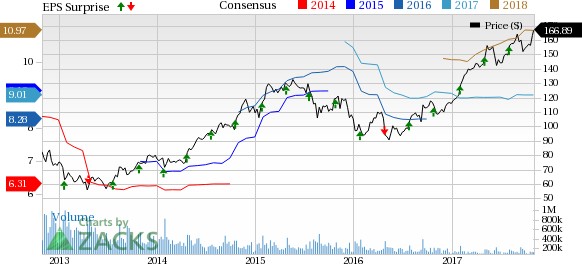 Apple Inc. Price, Consensus and EPS Surprise | Apple Inc. Quote
Bottom Line
How should investors play Apple ahead of their earnings report? For insights on the best options trades, then tune in at 11:00am CST today to see David's thoughts.
Zacks' Best Private Investment Ideas

While we are happy to share many articles like this on the website, our best recommendations and most in-depth research are not available to the public.

Starting today, for the next month, you can follow all Zacks' private buys and sells in real time. Our experts cover all kinds of trades… from value to momentum . . . from stocks under $10 to ETF and option moves . . . from stocks that corporate insiders are buying up to companies that are about to report positive earnings surprises. You can even look inside exclusive portfolios that are normally closed to new investors.

Click here for Zacks' private trades >>
Want the latest recommendations from Zacks Investment Research? Today, you can download 7 Best Stocks for the Next 30 Days.
Click to get this free report
Apple Inc. (AAPL): Free Stock Analysis Report
To read this article on Zacks.com click here.
Zacks Investment Research