The post ECB reaction today was dramatic. Volume was high, similar to that around the 1.3295 Nov. 2013 low, and the 1.3990, 2014-high.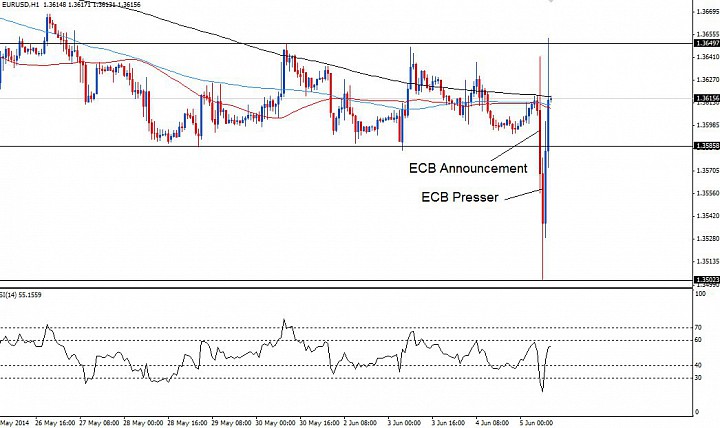 (eurusd 1h chart, 6/5)
Having volume similar to that of reversal points, today's reaction could be similar to a reversal, and it has been so far.
The 1H chart shows the initial bearish reaction , which found support at 1.35. Then price pushed above the 1.3650 consolidation high, only to settle back around 1.3615, middle of the consolidation range. 
The whiplash does not provide any true directional clue, but it does take away some mustard from the bearish outlook.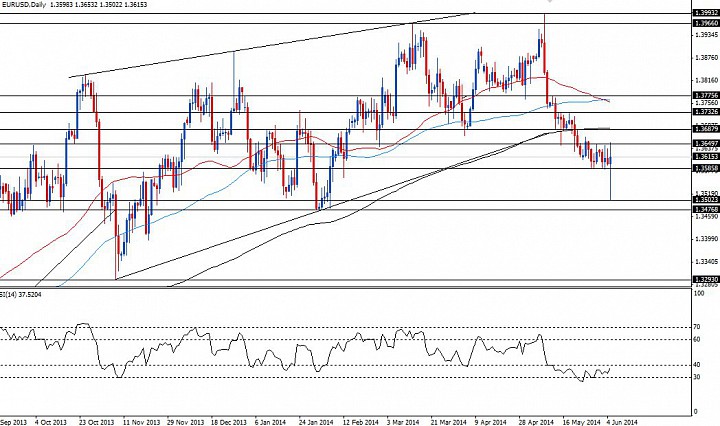 (eurusd daily chart, 6/5)
The indecision could be due to anticipation of tomorrow's NFP. The Jobless report was decent, so there could be a better than forecast NFP tomorrow, which could further strengthen the USD against the EUR. However, if after the NFP tomorrow, price can push north of 1.3650, we have to consider a bullish reversal in EUR/USD. 
Holding south of 1.3650, the focus will return towards the 1.35 handle, and the 1.3476, 2014-low. Below that, the 1.3290-1.33 area, and Nov. 2013 lows will come into sight.