Biogen BIIB kick-started the earnings season for the biotech sector with an earnings beat. Meanwhile, companies like Sarepta SRPT and Catalyst Pharmaceuticals CPRX saw their share prices falling on regulatory news.   

Recap of the Week's Most Important Stories

1. Earnings reports for the biotech sector are yet to come out in full force with Biogen being the only major biotech company to have reported results so far. Biogen's first-quarter results were mixed with the company surpassing earnings expectations but missing on revenues by a slight margin. Cost control and a lower share count helped boost earnings.

Investor focus was on Tecfidera's performance – sales grew from the year-ago period but declined sequentially with the product seeing some inventory drawdown. Biogen, which had increased its marketing efforts for Tecfidera in the U.S. by launching a TV campaign to raise patient awareness about MS and Tecfidera, said that it does not intend to purchase additional TV spots beyond mid-2016 (Read more: Biogen Tops on Q1 Earnings, Slight Revenue Miss).

2. Catalyst Pharma's shares crashed on news that the FDA has asked the company to conduct an additional adequate and well-controlled study on Firdapse for the resubmission of the NDA for the candidate. This means a delay in gaining approval as well as additional R&D costs. Several more short-term toxicology studies also have to be conducted by the company. Firdapse is being developed for the treatment of Lambert-Eaton myasthenic syndrome (LEMS). The only encouraging takeaway from the company's meeting with the FDA is that the agency is open to a study design that could fulfill the requirement with a small, short-term study.

3. Sarepta's shares tumbled with an FDA advisory panel voting against approving the company's lead pipeline candidate, eteplirsen, for the treatment of Duchenne muscular dystrophy (DMD). The vote does not really come as a surprise given the tone of the briefing documents that were released earlier this year in January. Next up on the schedule is the FDA's final decision regarding the approval status of the experimental treatment in late May. Although the FDA is not required to, it usually follows the recommendation of its advisory panels.

So far this year, companies developing DMD treatments are yet to taste success on the regulatory front – while BioMarin's Kyndrisa got a complete response letter earlier this year, the FDA issued a "refusal to file" letter to PTC Therapeutics for its experimental DMD treatment, Translarna.

4. AbbVie ABBV continues to work on expanding its pipeline and recently entered into a couple of deals both aimed at developing cancer treatments. The deal with CytomX is for the co-development and co-commercialization of Probody Drug Conjugates against CD71 and will see AbbVie paying at least $500 million (upfront plus milestone payments) apart from a profit share and royalties.

Meanwhile, the other deal is with argenx, focused on the development and commercialization of ARGX-115. Under this immuno-oncology focused deal, AbbVie could shell out at least $685 million.  

5. Gilead GILD gained EU approval for two doses of its HIV treatment, Descovy, making it the company's second TAF-based therapy to receive marketing authorization in the EU. Descovy had gained approval in the U.S. earlier this month and is considered to have blockbuster potential.

Performance

Biogen gained (3.95%) the most last week among major biotech stocks, while Regeneron REGN declined 1.72% during this period. Meanwhile, Vertex lost 26.69% over the last six months with Amgen recording a gain of 3.93% during this period.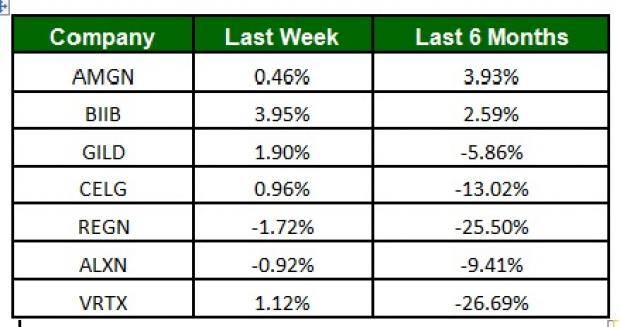 The NASDAQ Biotechnology Index was up 0.74% over the last five trading days (See the last biotech stock roundup here: Medivation Buyout Rumors Resurface, Synta Up on Merger Deal).

What's Next in the Biotech World?

With the first quarter earnings season for the biotech sector kicking off, watch out for earnings reports from companies like Vertex VRTX, Amgen, Gilead and Celgene among others.  

Want the latest recommendations from Zacks Investment Research? Today, you can download 7 Best Stocks for the Next 30 Days. Click to get this free report >>
Want the latest recommendations from Zacks Investment Research? Today, you can download 7 Best Stocks for the Next 30 Days.
Click to get this free report
VERTEX PHARM (VRTX): Free Stock Analysis Report
REGENERON PHARM (REGN): Free Stock Analysis Report
GILEAD SCIENCES (GILD): Free Stock Analysis Report
BIOGEN INC (BIIB): Free Stock Analysis Report
CATALYST PHARMA (CPRX): Free Stock Analysis Report
ABBVIE INC (ABBV): Free Stock Analysis Report
SAREPTA THERAP (SRPT): Free Stock Analysis Report
To read this article on Zacks.com click here.
Zacks Investment Research