Jobless claims fell to 305K for the week ended last Thursday,. This was better than the 319K expected, which was 5K less than the previous claims figure which came in at 310K.The important thing with the jobless claims figure is to consider it from a "trend" or longer-term perspective.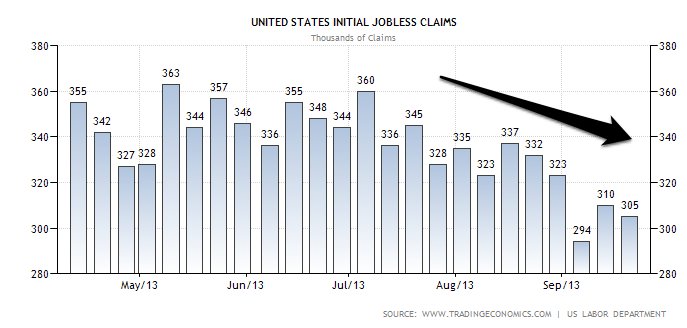 However, there's a caveat with the recent data as there's some issues still with the reporting of the data from California, which has increased the volatility of the figure (to the downside the last 2 weeks), Therefore, it might not be the most accurate reflection of the current state of jobless claims (and will be discounted by market participants as such).
      Here's
Forex Live
's take, with a good explanation:
The last two weeks of data from the Initial jobless claims has been up in the air due to California's "computer glitches" and that's set to continue today as the backlog has still not been cleared. It's caused such a problem that Governor Jerry Brown has told the office to pay out on claims even though people may not be eligible.

Be prepared for this weeks numbers to show some volatility as well. Depending on how much they've cleared out of the backlog we could have higher claims, due to them paying out willy nilly or lower numbers if they've got a handle on the problem. Depending on which it is we could then also have another knock on effect next week."

Looking at claims for the last 5 years we see a
general improvement. What this means is that the pace of lay-offs and firings has slowly but surely dropped to lower and steadier levels.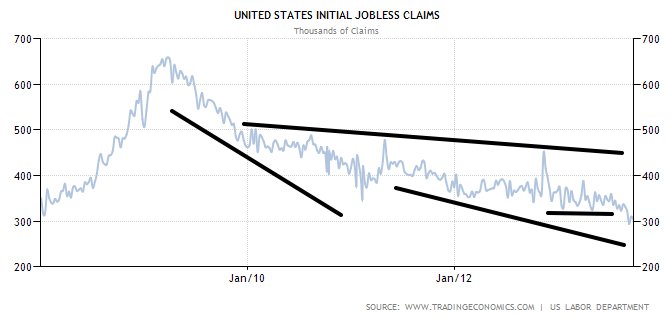 From this measure at least it seems that the labor market is improving, however just because companies may not be laying off and firing as many workers, it doesn't necessarily mean that they are hiring either. Since the recession, firms have gotten extremely lean and efficient, and its the pace of hiring that will determine the FOMC strategy on tapering.

The market reaction was mixed so far, with a small move into USD after the move, for instance against the JPY.


- Nick