The Bank of England concluded its monetary policy meeting and provided a statement that essentially shrugs off global uncertainty. I would not go as far as saying this is hawkish, but it definitely shows that the BoE have turned the corner away from the dovish stance. Here's a Bloomberg that includes an interview with former voting member of the Monetary Policy Committee, David Blanchflower: 

BoE Says Global Turmoil Hasn't Shaken its Economic Outlook

Let's take a look at the GBP/USD: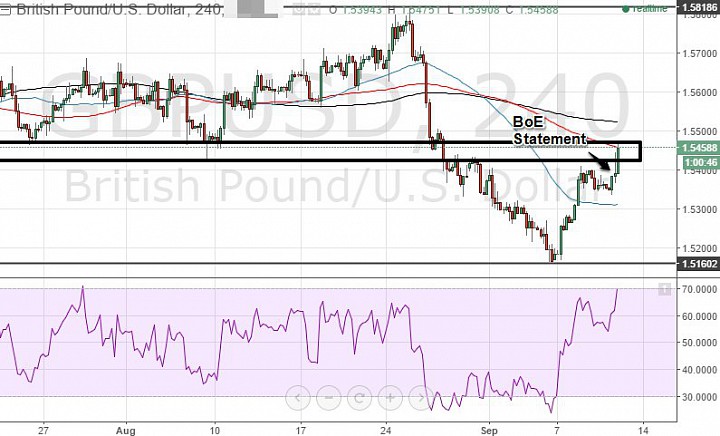 (click to enlarge)
The 4H chart shows that cable started the week rebounding from 1.5160 after falling in the past couple of weeks. After the BoE statement, there was a shake but an eventual rally. The rally now puts GBP/USD at a critical juncture relative to price action in August and end of July.

In the short-term we should expect some resistance here around 1.55, especially if we find a bearish divergence relative to the 4H RSI. Then, to the downside, we should first limit the outlook to 1.53. If the market starts to get wind that the FOMC will indeed raise rates this month, we can see further downside risk to 1.5160 and lower.