General Motors (NYSE: GM) just lifted the curtain on its new marketing campaign for the electric Chevrolet Bolt EV -- and viewed from a certain perspective, it's hilarious (in a good way).
What's the story? GM is positioning the Bolt EV as the technological descendant of... the original Lunar Rover, the electric car that went to the moon with Apollo 15 in 1971. 
There's a legitimate point here: GM engineers were in fact involved in developing the Rover, and GM is on rock-solid ground when it points out that it has been working on electric vehicles for decades.
But viewed from the right angle, it's also one heck of a subtle dig at Tesla (NASDAQ: TSLA) and its Mars-minded CEO, Elon Musk.
In a new marketing push, GM is tracing the Chevrolet Bolt EV's heritage back to the Lunar Rover, sent to the moon in 1971. Image source: General Motors.
Space missions? Been there, done that
GM said that Ferenec Pavlics, the Hungarian-born former GM engineer who led the development of the Lunar Rover, sees a "connective thread" between his work for NASA and GM's current work on electric vehicles. 
"When our team began engineering for the Lunar Rover, there were so many unknowns, including varied terrain, extreme temperatures and the effect of reduced gravity," said Pavlics in a statement released by GM. "We pushed the boundaries of automotive technology and worked hand in hand with the astronauts on the vehicle's design."
And of course, the Bolt's chief engineer, Michael Lelli, was happy to point up the connection:
The Bolt EV required a new architecture to upend the status quo on electric driving. We drew on our deep electrification expertise to provide Chevrolet customers the first long-range, affordable electric car.
GM also released this handy-dandy chart comparing the Lunar Rover to the Bolt.
Yes, it's all kind of nerdy fun. But GM is doing something serious here. 
GM has a couple of serious points to make here
It doesn't take much of a mental leap to see all of this as a television ad, coming soon. It's as much an ad for GM itself as for its little electric crossover. And it's also a poke at Tesla's high-tech cool factor, which draws luster from Musk's involvement with SpaceX. 
This isn't the first time that GM has given its Silicon Valley rival a subtle jab. Early last year, GM released a photo of a preproduction Bolt across the street from Tesla's facility in Palo Alto, California. And the first three Bolts to be delivered to customers were pointedly delivered at a Chevrolet dealer in Fremont, California, the home of Tesla's factory, in December.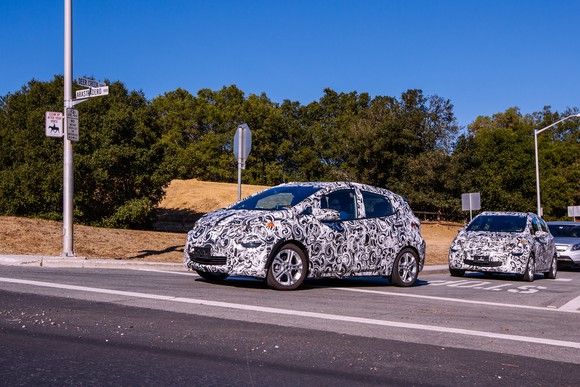 Preproduction Chevrolet Bolt EVs undergoing testing in Palo Alto, California, across the street form Tesla's headquarters early in 2016. Image source: General Motors.
But while tweaking rival automakers in ads is an old (and often fun) Detroit game, GM has a couple of serious points to make here. First, that the Bolt benefits from GM's many years of work on electric vehicles, all the way back to the Lunar Rover. Second, GM itself is no technological slouch, and its commitment to (and expertise with) electric vehicles isn't some recent thing.
And, of course, there's one more: Space missions? GM has been there and done that. 
10 stocks we like better than General Motors
When investing geniuses David and Tom Gardner have a stock tip, it can pay to listen. After all, the newsletter they have run for over a decade, Motley Fool Stock Advisor, has tripled the market.*
David and Tom just revealed what they believe are the 10 best stocks for investors to buy right now... and General Motors wasn't one of them! That's right -- they think these 10 stocks are even better buys.
Click here to learn about these picks!
*Stock Advisor returns as of July 6, 2017

John Rosevear owns shares of General Motors. The Motley Fool owns shares of and recommends Tesla. The Motley Fool has a disclosure policy.