Retail giant Wal-Mart Stores, Inc. WMT reportedly inked deals with more than 100 U.S. manufacturers on Jun 28 to sell 13 products on Walmart.com. The company had invited more than 500 American manufacturers and suppliers to pitch products in the country during the company's fourth annual U.S. manufacturing open call. During the open call, suppliers met with the company's senior leaders and merchants to sell their 'Made in USA' products online.
The deals are part of the company's commitment to support products made, assembled or grown in the U.S. During the fourth annual call, Wal-Mart also discussed the company's forthcoming proposals that would help simplify product labeling and encourage apprenticeships. The company is also advocating for tax and trade policies that encourage domestic manufacturing.
Being the largest private employer in the U.S., Wal-Mart took an initiative in late Jan 2013 to contribute to the revitalization of the sluggish U.S. economy and intended to spend $50 billion in the next 10 years to buy more American merchandise.
Wal-Mart now plans to invest $250 billion cumulatively over the next 10 years, which will create one million jobs. This will also include the jobs in manufacturing and related services.
Wal-Mart believes input costs overseas are very high, which limit U.S. companies to produce goods outside the U.S. Further, President Donald Trump has also been insisting on hiring more U.S. workers. In fact, Trump has repeatedly criticized U.S. companies across industries for not keeping jobs in the country.
The commitment to increase domestic sourcing of the products it sells and create jobs shows Wal-Mart's dedication to find innovative solutions to improve the economy.
Notably, Wal-Mart has been taking several initiatives to understand the evolving needs of customers and regain their confidence and boost sales. It has delivered positive comps in the U.S. in the last 11 quarters. Moreover, traffic improved for the 10th consecutive quarter owing to the company's efforts to modernize stores for higher footfall and improvement in consumer spending.
Wal-Mart is also making huge investments in e-Commerce initiatives to compete with the biggest online retailer, Amazon.com AMZN. In this regard, the company continues to make huge investments in e-Commerce initiatives, including acquisitions. The company has undertaken three e-Commerce acquisitions, since the buyout of Jet.com, U.S. e-Commerce company, in Sep 2016. The Jet.com acquisition was a major step toward accelerating its online business. It offered customers a massive online marketplace where they can purchase items at discounted prices. In fiscal 2017, the retail giant has also invested $2.7 billion for training and paying higher wages to U.S. associates.
Despite the company's efforts to boost sales and regain investors' confidence, it still faces many headwinds, which are likely to impact earnings in the near term. Higher e-Commerce investments, declining international sales and currency headwinds are expected to impact the results negatively.
Wal-Mart Stores, Inc. Price, Consensus and EPS Surprise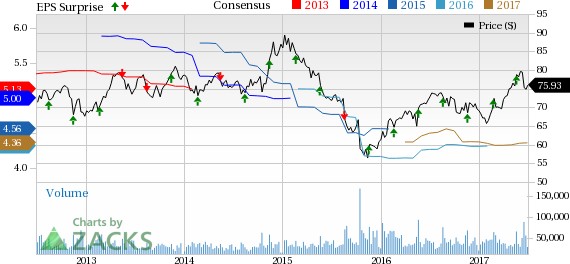 Wal-Mart Stores, Inc. Price, Consensus and EPS Surprise | Wal-Mart Stores, Inc. Quote
Share Price Movement
The stock has exhibited a bullish run on the index for the last one year. We note that in the said period the stock recorded 4.52% growth, outperforming the Zacks categorized Retail-Supermarkets industry, which showcased improvement of just 0.07%. We believe there is still much value left in the stock, which is quite evident from its VGM Score of 'A'.

What further makes us optimistic about its performance in the near term is its low beta of 0.30 and long-term earnings growth rate of 6.1%. Further, the retailer delivered positive earnings surprises in the past seven consecutive quarters.
Zacks Rank and Key Picks
Wal-Mart currently carries a Zacks Rank #3 (Hold).
Some better-ranked stocks in the retail sector are The Children's Place, Inc. PLCE and Tilly's, Inc. TLYS. While Children's Place sports a Zacks Rank #1 (Strong Buy), Tilly's carries a Zacks Rank #2 (Buy). You can see the complete list of today's Zacks #1 Rank stocks here.
Children's Place has expected long-term earnings growth of 8.0%, whereas Tilly's has expected long-term earnings growth of 13.0% for the next three to five years.
5 Trades Could Profit ""Big-League"" from Trump Policies
If the stocks above spark your interest, wait until you look into companies primed to make substantial gains from Washington's changing course.
Today Zacks reveals 5 tickers that could benefit from new trends like streamlined drug approvals, tariffs, lower taxes, higher interest rates, and spending surges in defense and infrastructure. See these buy recommendations now >>
Want the latest recommendations from Zacks Investment Research? Today, you can download 7 Best Stocks for the Next 30 Days.
Click to get this free report
Amazon.com, Inc. (AMZN): Free Stock Analysis Report
Children's Place, Inc. (The) (PLCE): Free Stock Analysis Report
Tilly's, Inc. (TLYS): Free Stock Analysis Report
Wal-Mart Stores, Inc. (WMT): Free Stock Analysis Report
To read this article on Zacks.com click here.
Zacks Investment Research