With crude production and inventories hitting record highs this week, it is likely no surprise that rig counts continued to decline - falling 40 to 988 total rigs  (and down 42 to 760 oil rigs). This is the 18th week in a row of total rig count declines - equal to the record series from 2008/9. At 48.5%, this is the biggest 18-week decline since 1986.
*U.S. TOTAL RIG COUNT DOWN 40 TO 988 , BAKER HUGHES SAYS
*U.S. OIL RIG COUNT DOWN 42 TO 760, BAKER HUGHES SAYS
Notably Arkansas and Kansas saw rig counts increase (8 to 9 and 12 to 13 respectively)
The weekly pace of decline has accelerated...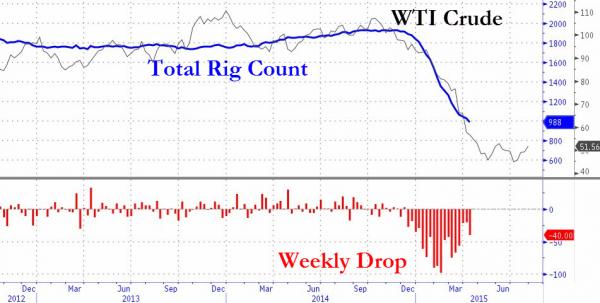 This is the biggest 18-week plunge since 1986...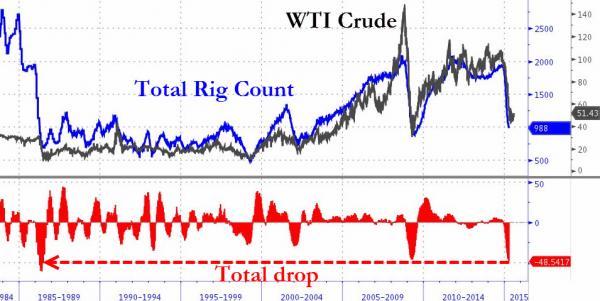 And Production re-accelerates (US and Saudi oil production record high, Iraq and Libya also boosted production in March) even as rig count collapses...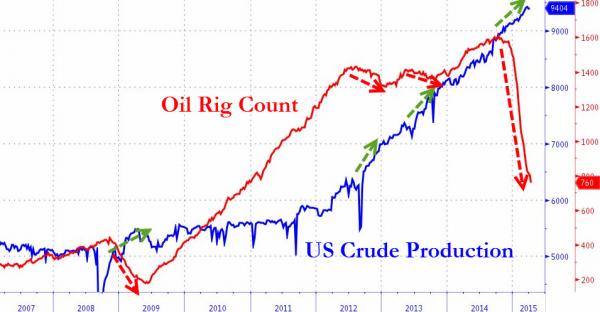 And Crude's initial response...Nothing
Charts: Bloomberg