UPDATE: NO INITIAL INDICATIONS OF TERRORISM IN WASHINGTON, D.C., POWER OUTAGES - U.S. GOVERNMENT OFFICIALS
The utility firm Pepco is currently investigating a Washington-wide black-out that has plunged The White House, State Department, The US Capitol, D.C. Metro, and even Oprah's TV Stage into darkness...Ironically, the outage occurred minutes after Rand Paul commented that "the time has come to take away the power from Washington D.C..."  Has anyone seen Kim Jong-Un today?
Breaking: Scatter power outage also affected the White House, US Capitol, and Justice Department in addition to State Department.

https://twitter.com/hashtag/Power?src=hash

— Edward Lawrence (@NewsEdward)

https://twitter.com/NewsEdward/status/585484883499360256
As Bloomberg reports,
The U.S. State Department lost electrical power Tuesday during its daily press briefing, and power also was briefly lost in areas of the White House and the Capitol.

 

Pepco Holdings Co. has started work to restore electricity to the State Department and other buildings in the area. It will take one to two hours until power is fully restored, according to an announcement over the State Department emergency broadcast system.

 

Hallways were dark in the State Department, lit only by light filtering in from the windows. Spokeswoman Marie Harf completed her briefing in the dark, reading from her briefing binder by the light of her iPhone as reporters took notes with lighting from their mobile phones.

 

Power briefly flickered off at the White House Tuesday afternoon, affecting the media workspace and at least some staff areas. Aides would not say if the White House was being powered by backup generators, though they planned to issue a statement later. Guests entering the White House were also temporarily delayed because Secret Service screening equipment was briefly knocked offline by the outage.

 

Multiple buildings in the U.S. Capitol complex were experiencing intermittent power outages, Capitol Police spokesman Shennell Antrobus said in an e-mail. The Capitol Police and architect of the Capitol were investigating the cause of the outages, he said.
*  *  *
The State Department currently...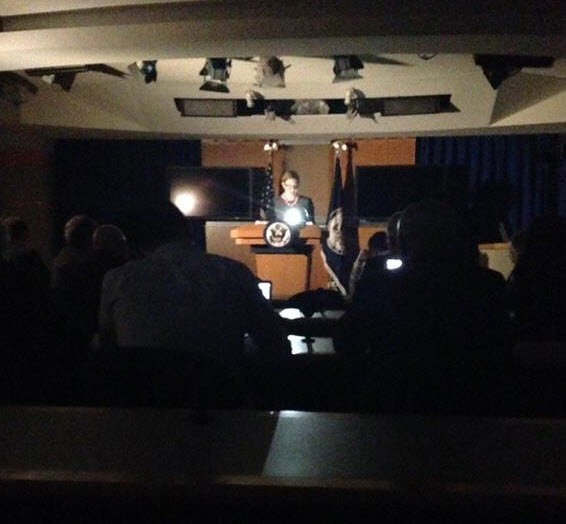 Offices being evacuated...
Power Outages Reported Across Washington D.C. Area http://t.co/5WuFHqd741 pic.twitter.com/LDQ5U2O22y

— Hotpage News (@HotpageNews)

https://twitter.com/HotpageNews/status/585489992862007297
PEPCO's outage map for Washington, DC at the moment: pic.twitter.com/PfJKDb1KcE

— Jeff Seldin (@jseldin)

https://twitter.com/jseldin/status/585490381120364546
The State Department press briefing continues in darkness. Power outage pic.twitter.com/Ph9Zytt7Hp

— Gayane Chichakyan (@Gayane_RT)

https://twitter.com/Gayane_RT/status/585485161132908544
*PEPCO SPOKESMAN SAYS NO FURTHER COMMENT ON POWER OUTAGES
*PEPCO SAYS IT'S GATHERING INFORMATION ON D.C. POWER OUTAGES
*STATE DEPT SAYS PEPCO EXPECTS TO RESTORE POWER IN 1-2 HOURS
*SMITHSONIAN SAYS SOME OF ITS MUSEUMS SEEING POWER OUTAGES
*SMITHSONIAN SAYS ON TWITTER THAT FOUR MUSEUMS NOW EVACUATED