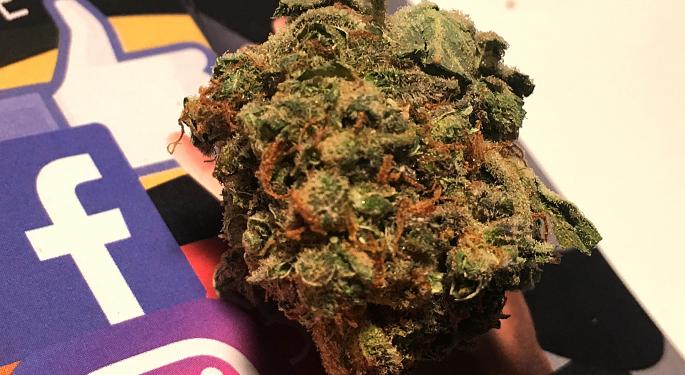 Benzinga follows the cannabis industry and the opportunities it presents. We often ask successful investors and entrepreneurs about the sub-sectors that offer the most space for growth and have, more than once, been told that media was one of the arenas that were ripe for disruption.
The Media Landscape
Until recently, marijuana media was mostly a niche, with High Times often being the standout.
However, with 1.9 million total visits in the month of June, High Times is far from the 479.2 million visits that Time Warner Inc TWX 0.12%'s CNN received and the 112.3 million that Forbes.
On the other hand, Facebook Inc FB 2.34% figures paint a different picture. High Times' Facebook page has more than 5.8 million followers, comfortably outpacing Forbes' 4.9 million followers, but still below CNN's 27.8 million likes – although the difference is not comparable with that in web traffic.
But, being the industry benchmark in a space that is defined by disruption and innovation doesn't provide any assurances. In fact, the landscape has changed a lot in recent months. Take a look at the numbers for the most popular cannabis media sites out there:
| | | | | |
| --- | --- | --- | --- | --- |
| Site | U.S. Rank | Global Rank | Facebook Likes | Twitter Followers |
| thecannabist.co | 9,284 | 41,047 | 56K | 61K |
| hightimes.com | 6,531 | 26,965 | 5.8M | 675K |
| marijuana.com | 6,499 | 25,256 | 41K | 16.3K |
| grasscity.com | 2,828 | 11,045 | 110K | 18.9K |
| leafly.com | 1,159 | 5,443 | 105K | 69.9K |
| herb.co | 935 | 2,939 | 8.6M | 15.3K |
Data complied by Javier Hasse as of July 11, 2017 using statistics generated by Amazon.com, Inc. AMZN 1.25%'s Alexa, and Facebook and Twitter Inc TWTR 3.27% public information.
Surprisingly, a few other niche cannabis sites like Leafly are considerably more popular than High Times, even though almost none of them get close in terms of social media following or brand recognition. One outlier proved particularly intriguing: HERB.
According to TubularLabs.com, HERB boasted June figures that are comparable to those seen in mass media outlets like Buzzfeed and Vice:
254.9 million video views, up 94 percent since April.
8.73 million Facebook likes, up 4 percent since April.
600,000 Instagram followers, up 11 percent since April.
98 million engagements, up 31 percent month-over-month.
Benzinga reached out to HERB Founder and CEO Matt Gray to talk about his site's sudden growth.
The Head Behind The Shop
Gray is a Canadian-born entrepreneur. He hit his first home run in 2012, when he co-founded Bitmaker Labs, a web development bootcamp that got its alumni jobs at behemoths like International Business Machines Corp. IBM 0.33%, Microsoft Corporation MSFT 1.66%, TELUS Corporation (USA) TU 2.09% and Shopify Inc (US) SHOP 3.71%.
After selling the firm to General Assembly, the businessman moved on to the cannabis industry, under the belief he had the chance to enter at the ground floor.
"I've always been incredibly passionate about cannabis, about that one plant, one flower, that signifies so many different things," Gray said, pointing out the implications of cannabis legalization for medicine, social justice, the "incredibly racist" war on drugs, and other important issues.
So, he decided to create a "go-to source for everything cannabis-related, assembling a team of artists, entrepreneurs, hackers and hustlers;" people who had previously proven very competent at Vice, Discovery Communications Inc. DISCA 0.11% DISCB's Now This, Amazon, Yelp Inc YELP 2.89% and other highly-engaged online communities. That's how HERB came to life in 2014, built on the base of another decade-old company they had just acquired and rebranded, The Stoner's Cookbook.
Meet HERB
Gray defines HERB as a "one-stop shop for whatever people need that's cannabis-related." The site seeks to reach the audience in very diverse manners, ranging from entertainment to education about the healing potential of marijuana.
"At the end of the day, the cannabis industry is like the Wild West," Gray told Benzinga. "On the consumer side, it's hard to find reliable information. On the business side of things, it's really difficult to get in front of consumers because weed is still a Schedule I drug in the U.S., because many of the companies are unable to advertise through traditional methods like Google, Facebook or Instagram."
Gray's long-term goal is to create a community where consumers and businesses can interact and meet one another through viral and engaging content.
Beyond The Stats
Discussing HERB's stats and how it became the largest and most engaged cannabis community in less than three years, one thing became clear: volume matters. HERB posts a ton of content (about 120 videos and 240 articles per week) and get hundreds-of-thousands of likes, shares and comments per post.
Nonetheless, Gray has no intention to stop at June's 254 million video views. His goal is to hit 1 billion video views per month by the same time next year. He also wants to create the largest and most accurate database of cannabis-related information in the world. How does he plan to do this?
Video is the key, as it's "taking over the world in many senses," he explained. "When you are scrolling through your video newsfeed, you see almost entirely videos. Fortunately, we got on that train pretty early on."
The Other Kind Of Green
In June, HERB generated $120,200 in revenue, up 42 percent since April. Most of that money is coming from native advertising of products and brands embedded on its original videos, Gray said. "I believe display advertising is dead," he commented, noting that the site's audience is heavily skewed to millennials – a demographic that isn't particularly inclined to clicking on display ads.
Of course, the fact that the videos just feature products and don't advertise directly also has a regulatory advantage, as it allows to circumvent many laws that prohibit promoting regulated products.
Understanding The Weed Crowd
The final piece to comprehending the success of HERB is getting to know its target demographic, which is young and engaged in social media. This is why the company can be so successful on the Facebook video front, while relatively weak on YouTube.
"We've been super-focused so far," Gray said. "Our site, Facebook and Instagram are our sweet spot today. But, as we continue to grow as a company, we have begun to focus a lot more on YouTube and plan on growing that just as fast over the next year."
Knowing who its clients are isn't only important to HERB when choosing which channels to emphasize, but also when deciding on content and voice. This is why more adult audiences, not particularly familiar with cannabis culture, could sometimes find the writing a bit frivolous and colloquial.
"Eighty-two percent of our users are between the age of 18 and 32, primarily situated in the U.S., Canada and the U.K. So, at the end of the day, it's really important we speak their language, their lingo (…) that we remain authentic, and a part of the community," Gray explained. This company is built around, and evolves around, the consumer.
More From Benzinga:
________
© 2017 Benzinga.com. Benzinga does not provide investment advice. All rights reserved.
Source