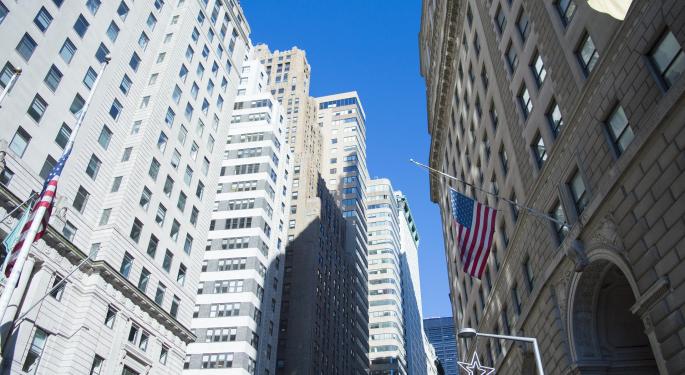 Below is a tool used by the Benzinga News Desk each trading day -- it's a look at everything happening in the market, in five minutes. Apply for daily AM access by clicking here or email minutes@benzinga.com.
Macro Focus
S&P 500 futures were up 0.5 percent to 2,140 in the pre-market session after the index closed Monday at an all-time high. The S&P 500 closed at 2,137, which surpassed the previous record close of 2,130.82 set in May 2015. Dow Jones Industrial Average futures were up 0.4 percent to 18,225, while those for the Nasdaq-100 index climbed or 0.5 percent to 4,573.25.
Crude oil rebounded from a two-month low on Tuesday morning, getting a lift from a weaker dollar ahead of the monthly OPEC report. MarketWatch noted the gains came as the dollar pulled back against most other major currencies, making oil cheaper for other currency holders.
BZ News Desk Focus
Alcoa (NYSE: AA) Reports Q2 Adj. EPS $0.15 vs $0.10 Est., Sales $5.3B vs $5.2B Est.
VOXX (NASDAQ: VOXX) International Reports Q1 EPS $(0.18) vs. Est. $(0.10), Rev. $155.45M vs. Est. $155M
Fastenal (NASDAQ: FAST) Q2 EPS $0.45 vs $0.48 est, Revenue $1.01B vs $1.02B est.
It's Amazon's (NASDAQ: AMZN) second annual Prime Day today. Following strength in the broad market, the stock closed at an all-time high Monday. It also surpassed Berkshire Hathaway in total market cap ($360 billion), nearly one year to the day it surpassed Wal-Mart (NYSE: WMT) in value.
Sell-Side Themes
JPMorgan updated coverage on a host of gold-related stocks. Gold prices are up 25 percent in 2016.
Sell-Side's Most Noteworthy Calls
Citi downgraded Vodafone (NASDAQ: VOD) to Neutral.
Credit Suisse downgraded WhiteWave (NYSE: WWAV) to Neutral.
BMO upgraded Oracle (NYSE: ORCL) to Outperform.
Goldman Sachs upgraded Pinnacle Foods (NYSE: PF) to Buy.
William Blair initiated coverage on Kate Spade (NYSE: KATE) at Outperform.
Wells Fargo started Fitbit (NYSE: FIT) at Market Perform.
Deal Talk
Xerox (NYSE: XRX) is said to be in talks to merge its copy business with RR Donnelley (NASDAQ: RRD), according to a report by CNBC.
AMC Theatres has acquired Odeon & UCI Cinimas for about $1.2 billion and reiterated its commitment to acquire Carmike Cinemas (NASDAQ: CKEC).
Concord Medical Services (NYSE: CCM) announced its board of directors has received a non-binding proposal letter from Chairman and CEO Jianyu Yang, Morgancreek Investment Holdings Limited and Blue Ocean Management Limited to acquire all of the outstanding Class A ordinary shares and ADSs, each representing three Class A ordinary shares for $1.73 per Class A ordinary share or US$5.19 per ADS.
In The News
The Securities and Exchange Commission is investigating whether Tesla (NASDAQ: TSLA) breached securities laws by failing to disclose to investors a fatal crash in May involving an electric car that was driving itself, a person familiar with the matter told Wall Street Journal, heightening scrutiny of how the company handled the information.
For some users with iPhones, signing into Pokemon Go with the most convenient option -- using your Google account -- allows the gaming company to read your emails. That's because the Pokemon Go app gets "full access" to your Google account, something most apps don't dare demand. Google settings state that "full access" means Pokemon Go "can see and modify nearly all information in your Google Account." Niantic, which develops the game, acknowledged the coding "error" on Monday.
Blogosphere
The single greatest challenge long-term investors face? Finding new reasons not to sell, even when the dips turn into corrections and the corrections turn into bear markets, according to the Irrelevant Investor.
Trending
FCX AA SAGE SHPG STX ASHR INSY TSM LCI CARA WFC AMZN IBM FAST IMPV [StockTwits]
Giancarlo Stanton won the All-Star Home Run Derby on Monday night, peppering every landmark from the left field corner to center field. He hit 20 homers in the final round to best defending champion Todd Frazier of the Chicago White Sox. Overall, the Miami Marlins slugger hit a record 61, shattering the single-night mark of 41 by Bobby Abreu in 2005.
© 2016 Benzinga.com. Benzinga does not provide investment advice. All rights reserved.