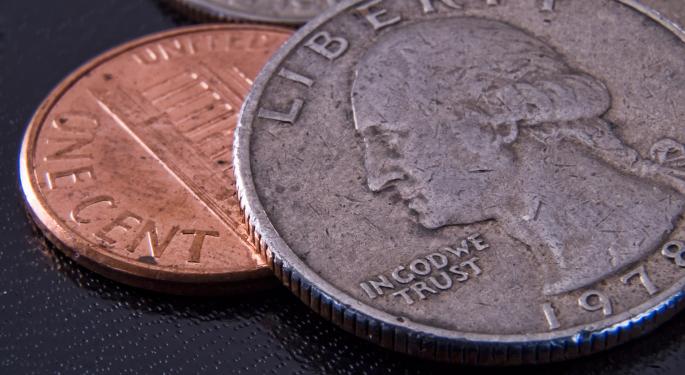 No matter how much you know about investing, you are probably aware that it's never a good idea to buy stocks at the very peak of a stock market bubble. Unfortunately, the nature of market bubbles means that they are very hard to identify in real-time.
Long-term investors in Microsoft Corporation MSFT 6.26% who bought at the very peak of the Dot Com Bubble back in 1999 can finally breathe a sigh of relief after 16 years. Microsoft's 6.8 percent Wednesday surge following the company's Q2 earnings beat has finally taken the stock to within cents of its first new all-time high since its Dot Com peak at $56.84 in December 1999.
Of course, when Microsoft's dividend (currently yielding 2.5 percent) is factored in, peak tech bubble buyers actually broke even on their investment back in 2014.
But before tech bubble buyers feel too good about themselves, it's important to remember that the S&P 500 is up roughly 50 percent in that same time.
Related Link: Differences In Opinion: Big Names Weigh In On Whether The Market Is Overvalued
Other Dot Com Bubble victims like Amazon.com, Inc. AMZN 0.62% and Apple Inc. AAPL 0.07% also took a while to recover to their bubble peaks. It took Amazon roughly a decade before it established new highs back in 2009. Apple penetrated its Dot Com Bubble peak within about five years.
Some tech stocks, like Cisco Systems, Inc. CSCO 2.24% are still nowhere close to their bubble peaks even after 16 years of dividends are factored in.
Now that patient Microsoft shareholders have made the 16-year round-trip, they must now decide whether Microsoft's next 16 years will be a bit more profitable for investors.
Did you like this article? Could it have been improved? Please email feedback@benzinga.com with the story link to let us know!
Disclosure: The author holds no position in the stocks mentioned.
© 2016 Benzinga.com. Benzinga does not provide investment advice. All rights reserved.