My Swing Trading Approach
For three days, the stock market has traded sideways. I have taken a more cautionary approach to the market during this time. I will look to add new long positions today, but only if the market cooperates.
Indicators
VIX - Another dull reading out of VIX. No reaction out of the Fed yesterday.
T2108 (% of stocks trading below their 40-day moving average): Divergence in T2108 as there was a 3% drop yesterday with now only 55% of stocks trading above their 40-day moving average, while the market as a whole continues to make new all-time highs.
Moving averages (SPX): Holding all the major moving averages.
Industries to Watch Today
Industrials and Health Care are the two industries with the most weakness in it right now. They have showing signs of wanting to roll over. Energy remains on fire, and Technology remains a go-to industry for traders, though it did take a breather yesterday.
My Market Sentiment
Strength in the early going, has been faded of late. More dependable rally of late, has been during the afternoons. Never trust a gap up.
S&P 500 Technical Analysis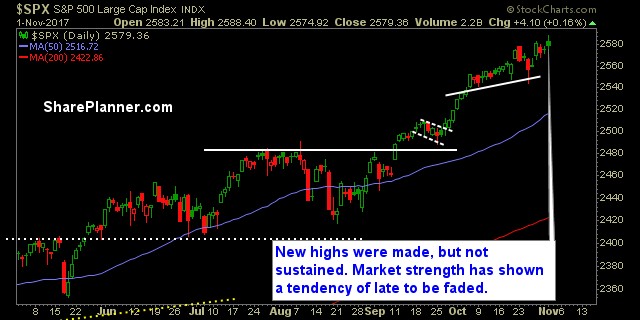 Recent Stock Trade Notables:
Humana (HUM): Long at $248.73, sold at $261.20 for a 5% profit.
Square (SQ): Long at $32.92, sold at $34.36 for a 4.4% profit.
Nvidia (NVDA): Long at $198.17, sold at $194.06 for a 2% loss.
Lennar Homes (LEN): Long at $56.63, sold at $58.10 for a 2.6% profit.
Lam Research (LRCX): Long at $185.23, sold at $192.24 for a 3.8% profit.
Starbucks (SBUX): Long at $55.59, sold at $54.94 for a 1.1% loss.
Illinois Tool Works (ITW): Long at $148.63, sold at $151.23 for a 1.8% profit.
Nvidia (NVDA): Long at $180.18, sold at $187.38 for a 4% profit.
Olin Corp (OLN): Long at $34.37, sold at $36.14 for a 5.2% profit.
Lowe's (LOW): Long at $77.97, sold at $81.52 for a 4.6% profit
IBB: Long at $330.91, sold at $338.25 for a 2.2% profit.
Seagate Technologies (STX): Long at $34.35, sold at $33.89 for a 1.3% loss.
Wynn Resorts (WYNN): Long at $149.65, sold at $147.14 for a 1.7% loss.
Imax Corp (IMAX): Long at $23.03, sold at 22.26 for a 3.3% loss.
Marriott International (MAR): Long at $106.26, sold at $108.26 for a 1.9% profit.
Alibaba Group (BABA): Long at $170.63, sold at $170.29 for a 5.0% profit.
Nvidia (NVDA): Long at $170.45, sold at $187.94 for a 10.3% profit.
More