Summary
Emerging market equities, and commodities had a strong rally on Tuesday.
This by no means, however, signals a reversal higher in either asset class.
Due to the continued fundamental weakness in the global economy, further volatility could be ahead in both assets.
Tuesday provided for strong moves higher in both United States Oil (NYSEARCA:USO) and iShares MSCI Emerging Markets (NYSEARCA:EEM). Both indexes had been badly sold off in recent months, and the relief rally was justified by supportive headlines. It, however, is too quick to call a bottom for either index as global market volatility remains.
Oil and commodities were the first asset class to start the day off with optimism. Reports surfaced that both Organization of the Petroleum Exporting Countries and non-OPEC producers, specifically the major players Russia and Saudi Arabia, were willing to talk about supporting the price of oil. Their reluctance to support the market over the past year has been a key driver lower in energy.
But while major producers may be willing to support the market, it does not change the fact that global economic weakness will not justify long term gains in oil, or really any commodity class. In early 2015, after a 60% drop in the price of oil, many market observers speculated that the price of oil had fallen too low, and that support was on its way. Prices rallied close to 40% from March lows, but today we find ourselves at even further depressed levels as the economics are not justified.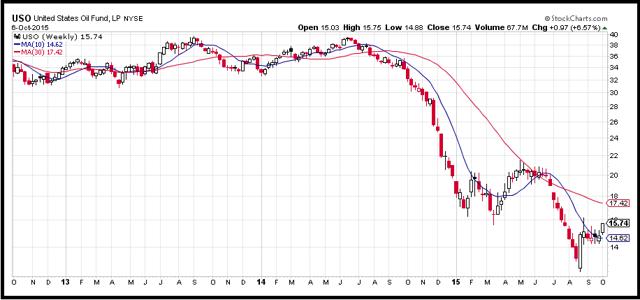 This brings the argument to emerging market equities. Like commodities, due to the strong production link between the two, emerging market equities have been heavily sold off since early 2015. Their currencies have similarly been severely depreciated as the U.S. dollar has shown much strength, while their central banks loosened policy to compete with the lower Chinese currency.
On Tuesday, the International Monetary Fund cut growth forecasts for emerging markets for fear of continually weak commodity prices, and slowing growth in China. The Fund downgraded growth in China, saying it would slow to 6.8% this year and 6.3% in 2016.
Moreover, even as central banks across the world have pumped nearly $7 trillion of quantitative easing into the economy since the financial crisis, global investment, growth, and productivity are still stuck below pre-crisis levels, alongside a lack of consumer demand.
Ultimately, deep fundamental problems remain in both the commodity sector, as well as in emerging markets. And while these two assets have been badly sold off already, it is still too much of a risk to buy in at current levels.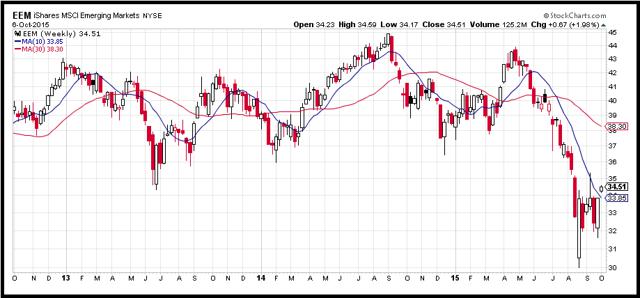 Finally, a reason to not believe Tuesday's rally, as well as remain cautious of riskier assets, is due to the increased level of volatility that remains in financial markets. VelocityShares Daily Inverse VIX ST ETN (NASDAQ:XIV) is an inverse measure of the VIX, and it has correlated well with risk sentiment over the last few years. The index was at yearly highs throughout the summer, but sold off nearly 50% during the late August declines.
The index has failed to make a significant recovery to date, and continues to sell off hard during market down days. Tuesday was a good day for both emerging market equities, and commodities, but it in no way signals a reversal higher. The fundamental picture of low growth and potential further volatility in financial markets make investing in either asset more of a risk than an opportunity currently.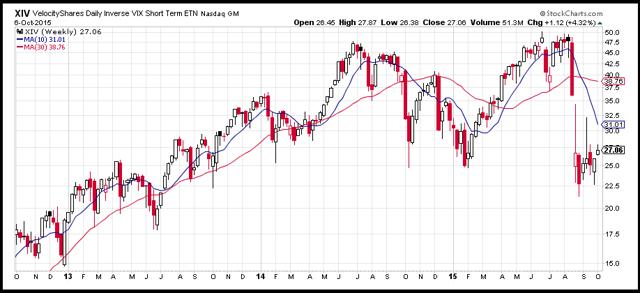 More