WTi Crude Oil has been consolidating for a little more than 2 weeks, but has been holding below 50 except for a very brief breach. Today it is digging into a new low on the year, breaking the 
WTI Crude Oil 4H Chart 1/29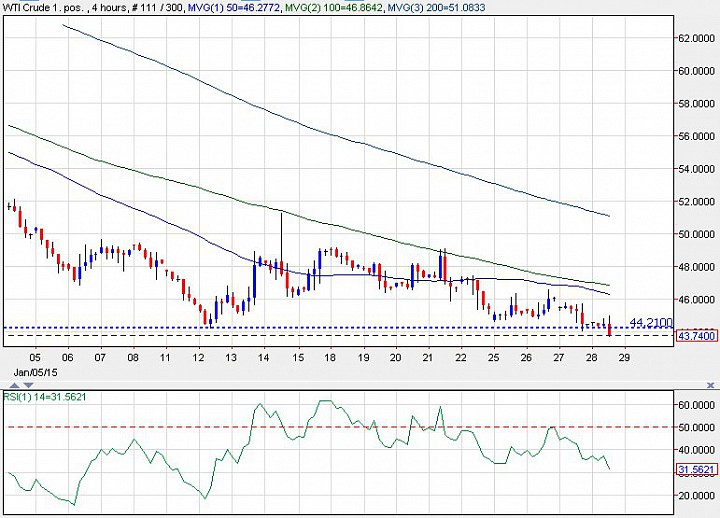 (click to enlarge)

Looking at the 4H chart, we can see that all the bearish technical conditions with the moving averages and the RSI have been maintained, making this a fairly smooth bearish continuation. Now, if price suddenly springs back above 47 this week, we can look for further consolidation and bullish correction to threaten the 50-handle. 

More likely, the prevailing downtrend has another leg. In this scenario the next key levels are the 40 psychological level, and the 33.22, 2008-2009 low.

Brent Crude has also been consolidating in the past couple of weeks. It is still maintaining the bearish biases, but price action has not been as aggressive to the downside as WTI Crude was.
Brent Crude Oil 4H Chart 1/29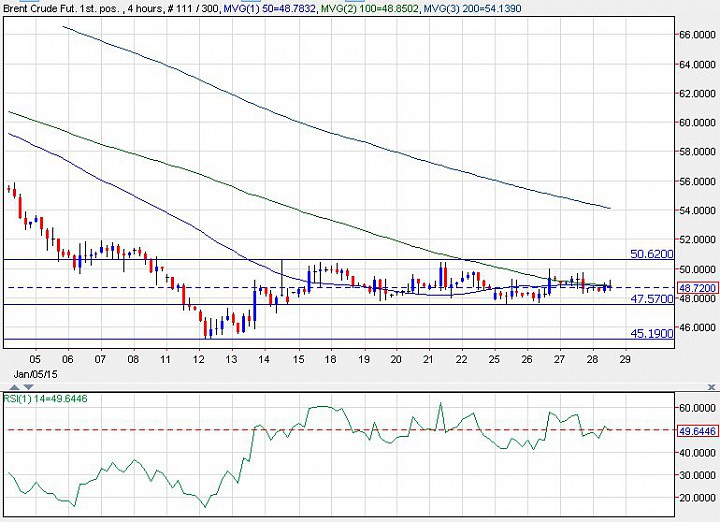 (click to enlarge)

Price is ranging roughly between the low on the year of 45.20 and a resistance at 50.60. We can see that price has been tightly ranging at the upper half of the range. A break below 47.55 would put pressure back at the bottom half and the 45.20 low.

If Brent follows WTI's bearish continuation scenario and falls below 45-45.20, the next key levels will be be a common support at 41, the 40-psychological handle, and the 2008-low at 36.20.