The Hanover Insurance Group, Inc. THG announced that its international specialty insurance group Chaucer has bought SLE Holdings. The acquisition will widen the acquirer's specialty capabilities.

Sydney, Australia-based SLE Holdings is a Lloyd's managing general underwriter, largely focused on sports, leisure and entertainment insurance markets. In 2016, the company wrote $25 million in specialty premium.

The acquirer believes that the addition of SLE Holdings will help it consolidate its Australian presence besides enhancing its specialty capabilities. At the same time, it can benefit from the acquired agency's underwriting expertise. The buyout is also expected to open avenues for growth for Chaucer's products, going forward. On the other hand, SLE Holdings will leverage The Hanover Insurance Group's resources to capitalize on new growth opportunities. Hence, a win-win situation can be created out of this acquisition.

The Hanover Insurance Group pursues purchases to expand its product offerings and grow through the existing agency and broker distribution network. The recent acquisition is part of the company's long-term growth strategy – Hanover 2021. A solid capital position enables the insurer to assume strategic takeovers that help it ramp up the growth profile.

Shares of The Hanover Insurance Group have lost 1.59% quarter to date, as against the Zacks categorized Property and Casualty Insurance industry's gain of 2.20%. We believe the company's strategic initiatives – both organic andinorganic – to stoke growth would drive the shares higher, going forward.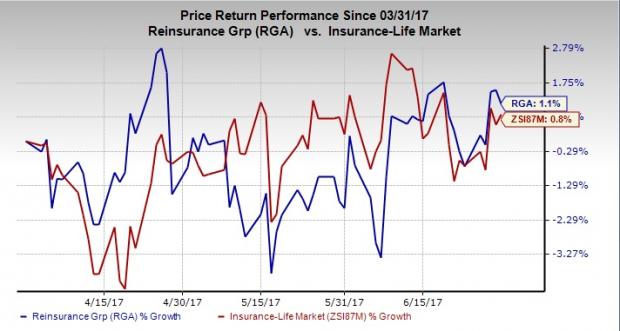 The Hanover Insurance Group presently carries a Zacks Rank #3 (Hold).

Acquisitions are a well-accepted growth strategy among insurers. Recently, Fairfax Financial Holdings Limited announced to acquire Allied World Assurance Company Holdings, AG AWH to form a global leader in property and casualty insurance, reinsurance and investments, while Sun Life Financial Inc. SLF closed the buyout of The Premier Dental Group, Inc. to strengthen its dental network. Also, Arthur J. Gallagher & Co. AJG took over Armstrong/Robitaille/Riegle, Inc., and Ann Arbor Business Advisors, LLC. in Michigan and Total Reward Group in England to add their capabilities to its portfolio.
5 Trades Could Profit "Big-League" from Trump Policies
If the stocks above spark your interest, wait until you look into companies primed to make substantial gains from Washington's changing course. Today Zacks reveals 5 tickers that could benefit from new trends like streamlined drug approvals, tariffs, lower taxes, higher interest rates, and spending surges in defense and infrastructure. See these buy recommendations now >>
Want the latest recommendations from Zacks Investment Research? Today, you can download 7 Best Stocks for the Next 30 Days.
Click to get this free report
Arthur J. Gallagher & Co. (AJG): Free Stock Analysis Report
Sun Life Financial Inc. (SLF): Free Stock Analysis Report
The Hanover Insurance Group, Inc. (THG): Free Stock Analysis Report
Allied World Assurance Company Holdings, AG (AWH): Free Stock Analysis Report
To read this article on Zacks.com click here.