Most of the companies have already reported their earnings this summer, but there are a few of them that are going to release their numbers today and tomorrow. One of them is Box - their business efficiency is way below the underground, so the main reason why I want to check their earnings is to see whether their management is able to turn this situation around or Box is a great short in long-term. However, there is even more interesting report is coming out today - Palo Alto Networks. Their competitor, Fireye, dropped more than 12% which played out well for my options strategy. As far as both companies are direct competitors, the overall industry is shaking up right now - we might expect a volatility increase after PANW earnings release. 
Palo Alto Networks' stock plummeted more than 12% after the most recent earnings release (Q3 FY2016), moreover, the company lost more than 20% of its market cap after Q2 FY2016 call. Despite these few significant drops, analysts are extremely positive regarding the company's stock: 12 iterated a 'buy' rating, 17 analysts have an 'outperform' rating and just 5 analysts recommend to 'hold' the stock. I think that their estimates look way too positive:
1) +52% y-o-y revenue growth:

2) +100% y-o-y EPS growth:

Source: Financial Times
Let's take a look at their options chain with Sep-2 expiration date. Option traders are very active, everybody expects the volatility hype here. As far as significant stock price fluctuations might happen after the closing bell today, the best strategy would be buying a straddle. My suggestion regarding the initial outlay is the following:

As you can see from this table, it's a very pricey strategy. Therefore, I think we should sell two OTM options - one call and one put. Doing this, we'll have the following outlay: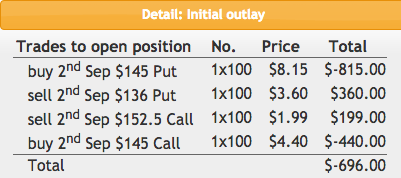 Here we efficiently optimized the cost of this strategy - not it's almost 2 times less expensive than the first option. P&L table in dollar value of this strategy will be the following:

As far as PANW ATM puts are two times more expensive than calls, it means that the whole market expects it to go down. We hedge it from going both ways - up and down. We can make up to $204 (or around 30% return) if the stock goes more than 4% down or we can make up to $54 (or around 7.7% return) if the stock goes up more than 7.7%.
I think even 7.7% return might be a good one that we can earn in just a few days. Let me know what you think regarding this strategy.