As Wall Street struggles to explain last night's trade data out of China which seemed to vividly illustrate the notion that the combination of the yuan's dollar peg and generally weak demand can and will take a devastating toll on the country's exports, and as iron ore does its best dead cat bounce impression on the "psychologically" (to use the words of one analyst who spoke to Reuters) important news that Australia's fourth largest miner is suspending operations, Citi is out with a rather dismal take on the outlook for iron ore prices. This comes on the heels of last week's Bloomberg report wherein metals analyst Kenneth Hoffman described the situation on the ground in China as "a lot worse than you think," citing "idle cranes, empty construction sites, and half-finished abandoned buildings" as evidence that China appears to be landing, and landing hard. In fact, Citi now sees China as "an ongoing headwind for industrial commodities." Here's more:
Industrial commodities are mostly negative on a YTD basis, the strengthening US$ and ongoing macro concerns over China have impacted the precious metals and bulks, respectively. The exceptions have been aluminum, zinc, palladium, and gold which have seen modest gains... Citi retains a bottom of consensus forecast for iron ore…

 

Steel demand is seeing only seasonal improvement typical of post-CNY. However, real estate demand remains quite soft…Environmental pressure has risen with the strengthened environmental law, which is forcing steel curtailments and increasing environmental compliance costs. 

 

Iron ore prices to fall to $30s... Large scale supply growth is set to add to pressure from weak demand and deleveraging. Moreover, cost deflation and marginal production are shifting to stickier suppliers…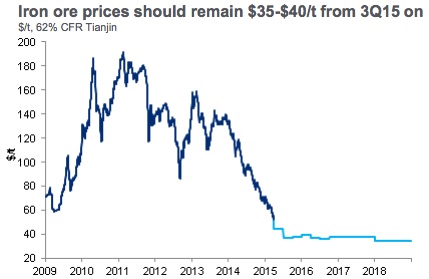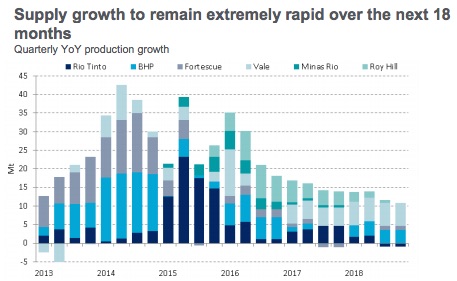 Iron ore demand in China is declining with steel production down year-on-year and domestic demand even worse…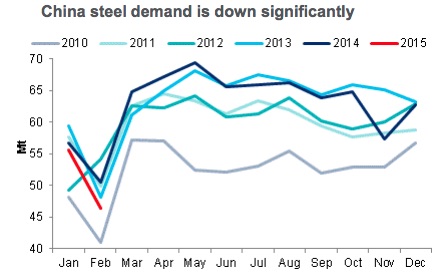 *  *  *
Of course, even as the evidence continues to pile up that the supposed engine of global growth has gone from slowing down to sputtering to outright stalling, Chinese equities are in a veritable super bubble, fueled by an absolutely absurd combination of leverage and retail investor euphoria that has now spilled over into Hong Kong and shows no signs of abating. 
And meanwhile...
S&P PUTS IRON ORE PRODUCERS ON WATCH NEG ON FALLING PRICES