Twitter lost almost 50% of its stock price over the last year, however the operating metrics are growing. The problem is that nobody believes that the company can proceed with its advertising revenue in competition with Facebook, Instagram and others. Most interesting fact is that today Twitter's stock grew up 8%. 
<!== INSTRUMENT %% %1440% ==!>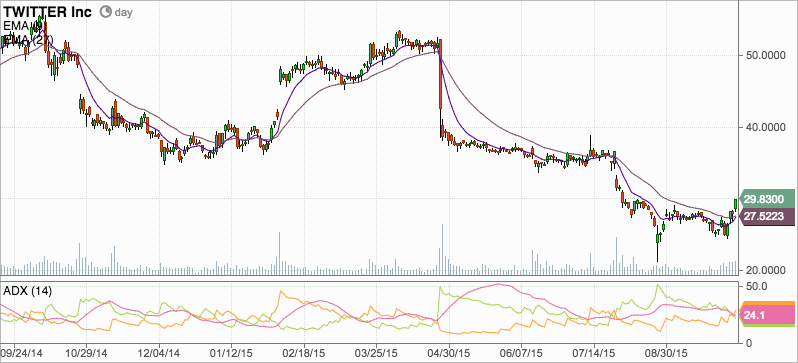 The operating metrics have a curious dynamic.
MAU (Monthly active users). Twitter is reporting the growing in MAU each quarter, however the growth rate is decreasing. Anyway, I think that this year MAU will be around 307-308M (without the SMS-based fast followers);
Twitter have not reported the number of advertisers, so I decided to understand how much money Twitter earns on each active user. I think that this is the most applicable operating metric fro Twitter at the moment. So, the company increased its average revenue per active user from $1.7 in 2012 to $4.9 in 2014. Moreover the trend continues: as of June 30, 2015 Twitter had already received around $3 per each user. It seems that the company will increase this average revenue this year by a significant growth rate;
Cost of revenue and Marketing expenses effectiveness. Cost of revenue and marketing expenses grew up as well, but the most important that the growth rate of the cost of revenue is less than revenue growth rate. Marketing expenses had been growing faster than revenue till the end of 2014. The company is optimizing its marketing expenses this year and I assume that the marketing costs will drop down from 43% as % of revenue in 2014 to around 39%.
According to all assumptions and operating & financial metrics trend the company has a significant upside potential. However, it's too risky to buy the stock because of the competition.