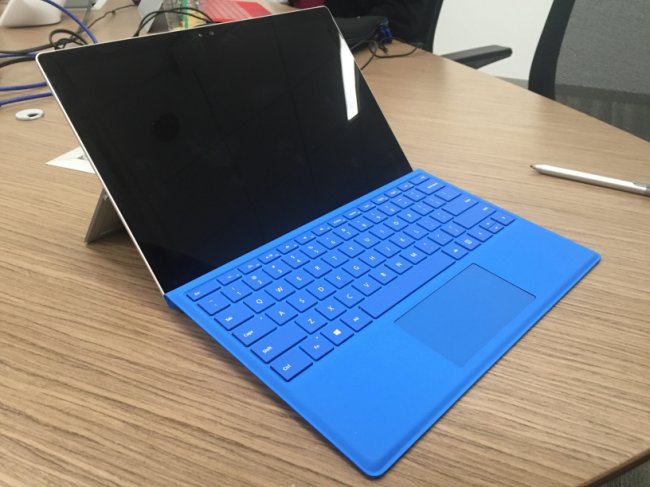 (Matt Weinberger)
Usually, businesses are the last to adopt any kind of new gadget, given that they actually rely on laptops, tablets and smartphones to make money and can't risk any first-day adoption glitches.
Not so with the Surface Pro 4, Microsoft's upcoming laptop-tablet hybrid. According to Microsoft, a few big names are already starting to order the newfangled device for their employees.
"The Surface Pro 4 sweet spot is, 'I want a tablet, but need a laptop," says Microsoft Director of Surface Cyril Belikoff.
Today, Microsoft is announcing that Berkshire Hathaway Automotive, the car dealership arm of Warren Buffett's legendary corporate holding company, has already ordered Surface Pro 4 tablets for their employees — and 12 other companies, including USI Insurance and the Land O' Lakes dairy giant, have done the same.
Microsoft isn't giving out any specific numbers for unit sales, but it said that all of these deals are in the hundreds to thousands of units. Belikoff says that the Surface Pro 4 is the fastest-adopted Surface device in the enterprise. Now it wants to keep the momentum going, with this news and a slew of other announcements.
Why Surface for business?
Microsoft's sales pitch is simple: The Surface Pro 4 is a good-looking, light, touchscreen tablet that also runs every piece of Windows software from Windows 7 onwards.
So if you're a...
More