Well, that was quick.
Gilead Sciences' (NASDAQ:GILD) meteoric growth came screeching to a halt earlier this year as its hepatitis C drugs, which took the world by storm and generated over $19 billion annually in 2015, saw sales begin to fall. Blame it on a number of factors -- competition, price discounts to expand the patient pool, a changing mix of payers -- but the fact of the matter is that Gilead's top line is falling for the first time in years.
Fortunately, the embattled big-cap biotech has two big opportunities to reignite growth -- to the tune of $10 billion in revenue or more.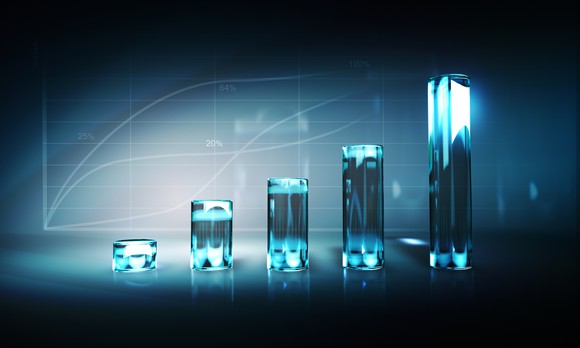 Option 1: NASH
NASH, or nonalcoholic steatohepatitis, is inflammation and damage of the liver caused by the growth of fatty tissue over time. Between 2% and 5% of Americans have NASH, which can lead to liver fibrosis and, ultimately, cirrhosis.
Gilead is developing three different drugs to combat NASH: monoclonal antibody simtuzumab, ASK1 inhibitor GS-4997, and FXR agonist GS-9674. Gilead is testing each drug separately, seeking a roughly 20% decrease in liver fat in a series of phase 2 studies (data expected later this year). Then Gilead plans to put the drugs in combination trials, with the goal of finding a cocktail that is maximally effective. Analysts see an effective NASH drug potentially pulling in $10 billion in annual peak sales (in a market that could be valued as highly as $40 billion annually in total).
Gilead isn't the only company playing for keeps in this space, however. Shire's SHP626 recently snagged an FDA fast-track designation as it entered phase 2 trials. And Intercept Pharmaceuticals' Ocaliva is in phase 3 trials for NASH, having been recently approved for primary biliary cholangitis. Fortunately, the NASH market appears likely to support multiple drugs, given its potential size -- but there will undoubtedly be pricing wars if more than one...
More