What Factors Are Driving Mylan's Valuations in 2016?
Leveraging the Meda acquisition
Since Meda derives about half of its total revenue from the respiratory and allergy, dermatology, and pain segments, the combined Mylan–Meda entity is expected to have an enhanced presence in these segments.
Mylan (MYL) also believes that after the acquisition of Meda, the combined company will have six franchises worth $1 billion. These franchises will involve infectious diseases, gastrointestinal diseases, cardiovascular diseases, respiratory and allergy-related ailments, metabolic and diabetes-related conditions, and diseases related to the central nervous system.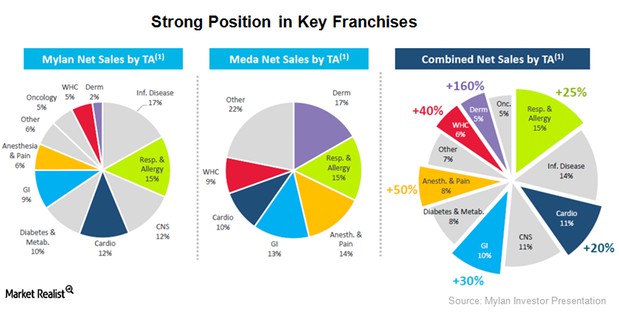 How Mylan Plans to Leverage Its Meda Acquisition
The above diagram shows that the acquisition will also help to strengthen Mylan's position in areas such as pain, anesthesia, women's health, and dermatology.
Respiratory and allergy segment...
More