Richard DeAgazio, a 72-year-old Palm Beach businessman, Trump supporter and actor, raised some eyebrows over the weekend after he essentially live blogged Trump's Mar-A-Lago golf outing with Japanese Prime Minister Shinzo Abe.  Among other misguided posts, DeAgazio thought it would be a really good idea to pose with, and publicly identify, "Rick", the service man responsible for carrying the "nuclear football."
DeAgazio has since deleted his Facebook account, but as parents have been warning their teenagers for nearly a decade now, it's almost impossible to erase something from the internet once it hits social media.  Unfortunately for Richard, this was no exception:
Of course, this type of aloof behavior from Mar-A-Lago guests who pay annual membership dues of $200,000 to Trump's business interests, will be exploited to the maximum extent possible by outraged Democrats.  We're awaiting an impeachment motion from Nancy Pelosi which should be forthcoming at any moment.
While the picture above was likely plenty to get him "Fired" from the club, DeAgazio was far from finished.  Here is a lovely picture with Steve Bannon...
...and another with Trump standing in front of a glorious portrait of himself.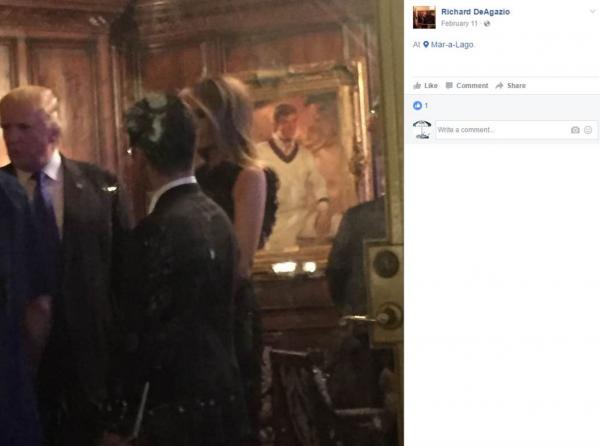 But he still wasn't done, at 1:35AM DeAgazio posted the following pics of Prime Minister Abe and Trump reacting after news broke that North Korea had "launched a missile in the direction of Japan"...."HOLY MOLY!!!"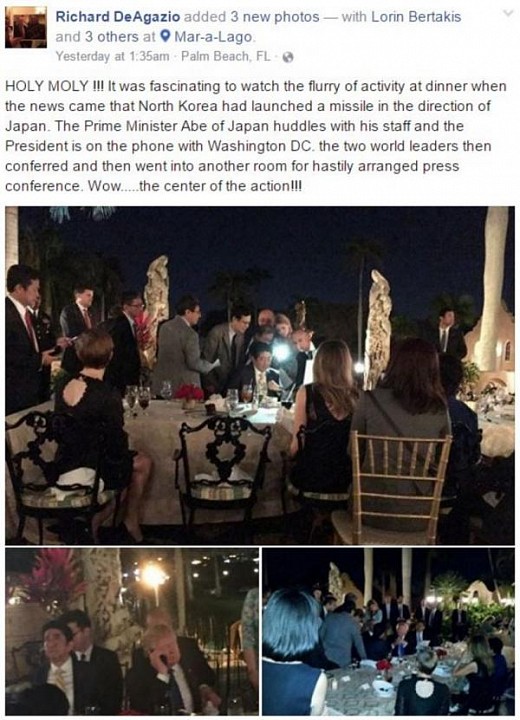 Something tells us that Richard just earned himself a lifetime ban from Mar-A-Lago...