1. Software Architect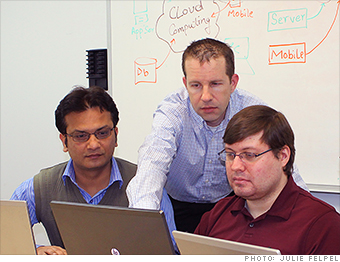 1
Christopher Felpel, software architect/consultant
Median pay: $124,000
Top pay: $169,000
10-year job growth: 23%
In the same way an architect designs a house, software architects lay out a design plan for new programs. That usually means leading a team of developers and engineers, and making sure all the pieces come together to make fully-functioning software.
What's great: New problems come up all the time and new technologies arise, making each day different, and keeping professionals in demand. "I'm pinged at least once or twice a week for new opportunities," said software architect Christopher Felpel. "There's just a lot of work out there, and that doesn't surprise me." --Jillian Eugenios
Quality of life ratings:
Personal satisfaction: A | Benefit to society: B | Telecommuting: A | Low stress:
A
http://money.cnn.com/gallery/pf/2015/01/27/best-jobs-2015/in...