GBP/AUD has been bullish for most of the year. It has been very persistent at least from May, after a few months of consolidation. At the end of July and beginning of August, he pair made a high on the year around 2.1528. 

GBP/AUD Daily Chart 8/12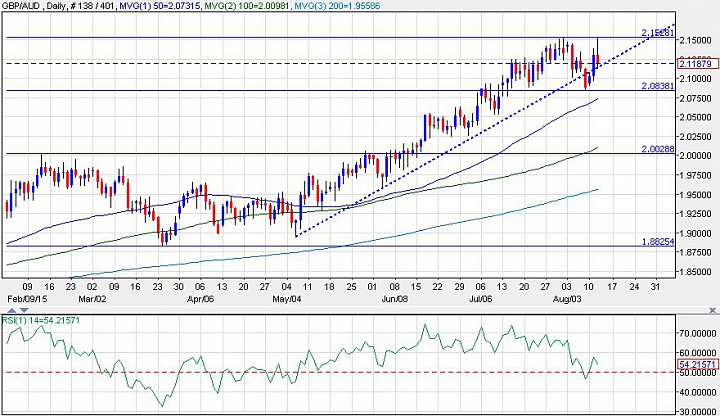 (click to enlarge)

The retreat from 2.1528 was actually the strongest bearish swing since May and it cracked a rising trendline. However, the bullish trend in the daily chart is still for the most part intact. 1) The trendline break was not clear, 2) price is still above the 200- 100-, and 50-day simple moving averages (SMAs), and the daily RSI is still above 40. 

The only sign of a possible bearish outlook is today's rejection from 2.1528 again. This creates a possible double top. Just note that this is a "naked" price action read. It COULD make sense from a fundamental standpoint because the latest RBA statement sounded less dovish and less concerned with the strength of the AUD. The BoE on the other hand is becoming more complacent, and thus less hawkish as some anticipated. I don't there is sufficient divergence for a strong bearish GBP/AUD outlook, but it might lead to a medium-term consolidation, which at the moment has some short-term bearish outlook first to check the 2.0838 support piot. Below that, the area around 2.00-2.0250 will be the next key support area.