Shares of Twitter (TWTR) have been bullish since June, rallying from just under 14 to tag 21. This 50% rally essentially opened up the possibility that price has bottomed in 2016. 

Twitter daily chart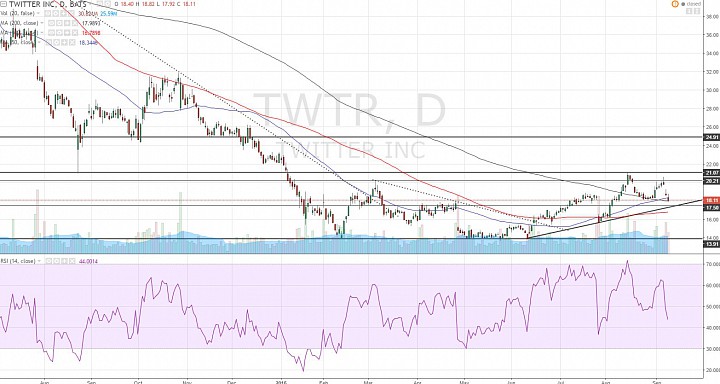 (click to enlarge)
Double bottom
- Heading into 2016, TWTR has been bearish. In fact, price has been bearish since the stock IPOed and shot to 74.70 at the end of 2013. 
- So essentially, the stock has been in a secular bear market.
- However, price action in 2016 looks like "accumulation" or a large consolidation base.
- The fact that price held at 13.90 in February then against in May-June suggests that price could have bottomed - double bottomed to be specific. 
Other signs of bullish reversal:
- Other than the structure of price action, we have a couple other signs that TWTR may be in bullish reversal.
- Price has broken above all three of the the 200-, 100-, and 50-day simple moving averages (SMAs). 
- The RSI has tagged 70, and mostly held above 40, showing development of bullish momentum. 

The current bearish correction:
- If we believe that TWTR has bottomed and made its first bullish reversal swing in June-August, then we should look at the retreat from 21 as a bearish correction.
- If we have a bullish bias on TWTR, the 17.00 area will be key.
Technical support factors:
- We can see that around 17.50, price would be testing a rising trendline.
- Also note that price is re-entering the cluster of 200-, 100-, and 50-day SMAs. This cluster should act as support if TWTR is indeed in a bullish reversal mode. 
- Also, the RSI should hold above 40 if bullish momentum is to continue. 
- Finally, we should note that the 17 area is essentially the middle of the consolidation range between 14 and 20. If price can hold above this central pivot, then we can have more confidence of the bullish reversal scenario.