It has been a while since we have seen the USDJPY rampathon push US equities higher, so in a day dominated by central banks (first the BOE momentarily), and then the ECB's much anticipated announcement of the actual QE launch at the Draghi press conference at 1:30pm CET (taking place, ironically enough, in the place that was the blueprint for the Eurozone's capital controls, Cyprus), it only makes sense that after weeks of stage fright, the USDJPY algos reminded the world they are alive and well, and proceeded to ramp the key FX pair above 120, even though the currency that everyone will be talking about today is the Euro, hugging 1.10 as of this moment, but the real question is what happens after Draghi gives the asset buying green light: has all of Q€ been priced in already in FX, and will the EURUSD resume its surge higher, or is parity next stop?
In any event, the ECB is widely expected to hold rates, with the deposit rate solidly in negative territory, as it unveils details about its asset-buying program, and just where it hopes to buy all those hundreds of billions in bonds from, including on the timeline for purchases and the legal details around them. Separately.
But before the main event, a quick recap of last night's drama out of China, where we learned that Premier Li Keqiang has set the economic growth target at 'around 7%' from 'around 7.5%' last year. As DB summarizes, Li struck something of a downbeat tone in his report, saying that 'the difficulties we are to encounter in the year ahead may be even more formidable than those of last year' and that 'China's economic growth model remains inefficient; our capacity for innovation is insufficient, overcapacity is a pronounced problem and the foundation of agriculture is weak'. China's the CPI target has been lowered to 3% (from 3.5%), the M2 growth target cut with the fiscal deficit largely unchanged as a percentage of GDP. DB adds that there is risk of a mini-hardlanding this year.
In terms of macro, the only meaningful hard data point was German Factor Orders which tumbled 3.9% on expectations of just a -1.0% drop, following last month's 4.4% surge (revised up from +4.2% initially). Domestic orders declined 2.5%mom after +5.1%, while foreign orders dropped 4.8%mom after +3.8%. The decline in foreign orders predominately reflects a decline in orders from within the Euro area which declined 9.0%mom after +4.6%mom (some of the decline is related to the very volatile transport equipment category that includes airplanes). Orders from outside the Euro area were down 2.2%mom after 3.4%.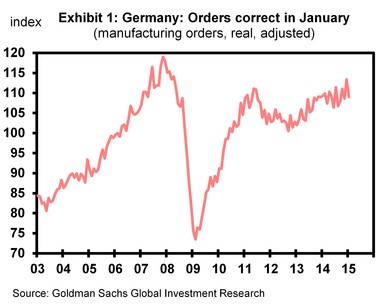 Back to markets where today's session sees European equities (EUROSTOXX +0.40%) shrug off a negative close in Asia which came as a result of Beijing setting a 2015 GDP target of about 7.0% vs. Prev. 7.5%, the lowest in over 15yrs, with Chinese Premier Li stating he sees pressure on the economy intensifying, adding that it faces greater difficulties in 2015 vs. 2014. European markets instead trade in minor positive territory after a busy morning in terms of earnings but very light in terms of macro newsflow ahead of this afternoons ECB rate decision and press conference.
Bunds (-13 ticks) have also seen little price action today with many market participants waiting on the sidelines in anticipation of discovering the technicalities of the QE programme, including the composition of such purchases and a start date for launch, with the latest ECB sources suggesting that March 9th will see the central bank begin bond purchases
USD/JPY has seen a bout of strength during the European morning, with the pair breaking above the 120.00 handle, where a large option expiry (USD 3bln) is to expire at the 1500GMT NY cut, while elsewhere, EUR/USD continues to reside around 11 year lows, with the USD index remaining near 11 year highs. Of note, US Jobless Claims & Productivity data (1330GMT) and Factory Orders (1500GMT) may be delayed due to adverse weather conditions in Washington DC.
Elsewhere, AUD/USD has spent the European morning retracing gains, after RBA Deputy Governor Lowe deviated from the RBA's usual jawboning saying AUD was still high given state of the economy but closer to where it needs to be. While NZD/USD has trended lower throughout the Asian and European session after RBNZ are said to be consulting on property investor loans which has led to speculation that it could open the door to RBNZ rate cuts.
WTI and Brent crude futures both trade in the green today, with some attributing a late rally yesterday to the Fed's Beige book, which said US drilling has slowed in shale and traditional oil region, adding that companies were reducing Capex. Meanwhile, further upside was seen today as a result of continued disruption in Libya, with the country declaring force majeure on 11 of its oil fileds. In NatGas Today sees the EIA NatGas Storage Change, which is expected at -225 after another cold week in the US. Elsewhere, gold briefly broke below the USD 1,200 handle during the European morning after trading in a tight range during Asia hours, before moving back above the handle later in the session.
Bulletin Headline Summary
Markets remain quiet amid light newsflow ahead of the ECB rate decision and press conference later today
USD/JPY breaks above the 120.00 handle, with the USD Index remaining near 11 year highs
Looking ahead, the main event of the session sees ECB's Draghi post rate decision press conference, with other highlights including the BoE rate decision, US Weekly Jobs Report and Factory Orders and comments from Fed's Williams.
Treasuries lower as market awaits details of ECB's QE program, policy announcement at 7:45am ET, Draghi presser at 8:30am. U.S. payrolls report tomorrow, est. +225k vs +267k in Jan, unemployment rate 5.6%.
China lowered its growth target to 7% from last year's 7.5%, lowest in more than 15 years, and flagged increasing headwinds as leaders tackle the side effects of a generation-long expansion that spurred corruption and fueled debt
German factory orders fell 3.9% after a revised increase of 4.4% in December, data from the Economy Ministry in Berlin showed on Thursday
Sweden's Swedish Riksbank bought SEK4b of notes due 2016 and 2017 at average yields of -0.160% and -0.139%, according to a statement on Thursday; investors offered SEK15b in total
As talks over the disbursement of bailout funds for Greece drag on into their seventh consecutive month, the deadlock threatens to pull the country back into a recession this quarter, or even a possible default within weeks
Hillary Clinton sought to do some damage control yesterday as she revealed that she's asked the State Department to release the e-mails she exchanged during her four years leading the agency
U.S. Ambassador to South Korea Mark Lippert needed 80 stitches to his face after being slashed by a North Korea sympathizer demanding an end to joint U.S.-South Korea military drills
India's support of state-controlled banks is shifting to target the most profitable lenders for capital injections, rather than propping up weaker peers, as the nation seeks to build a more robust financial system
Sovereign 10Y yields higher. Asian stocks mixed, with Nikkei higher, Shanghai and Hong Kong lower, European stocks stocks gain; U.S. equity-index futures rise. Crude and copper gain, gold little changed
US Economic Calendar
7:30am: Challenger Job Cuts, y/y, Feb. (prior 17.6%)
8:30am: Non-farm Productivity, 4Q final, est. -2.3% (prior -1.8%)
Unit Labor Costs, 4Q final, est. 3.3% (prior 2.7%)
8:30am: Initial Jobless Claims, Feb. 28, est. 295k (prior 313k)
Continuing Claims, Feb. 21, est. 2.395m (prior 2.401m)
9:45am: Bloomberg Consumer Comfort, March 1 (prior 42.7)
10:00am: Factory Orders, Jan., est. 0.2% (prior -3.4%)
Central Banks
7:00am: Bank of England sets bank rate, est. 0.5% (prior 0.5%)
7:45am: European Central Bank sets main refinancing rate, est. 0.05% (prior 0.05%)
8:30am: ECB's Draghi holds news conference in Nicosia, Cyprus
10:00am: Fed's Williams speaks in Honolulu
* * *
DB's Jim Reid concludes the overnight summary
We're well and truly in the business end of the week now as interest and activity picks up after a slow start. All eyes are on the ECB today and in particular payrolls tomorrow but we start in China this morning where the current National People's Congress meeting is underway. As our colleagues in China had expected earlier in the week, the main news to come out is that Premier Li Keqiang has set the economic growth target at 'around 7%' from 'around 7.5%' last year. Li struck something of a downbeat tone in his report, saying that 'the difficulties we are to encounter in the year ahead may be even more formidable than those of last year' and that 'China's economic growth model remains inefficient; our capacity for innovation is insufficient, overcapacity is a pronounced problem and the foundation of agriculture is weak'. Our China economist Zhiwei Zhang also noted that the CPI target has been lowered to 3% (from 3.5%), the M2 growth target cut with the fiscal deficit largely unchanged as a percentage of GDP. Zhiwei continues to believe that there are rising risks of a mini-hardlanding this year. In terms of market reaction, the Shanghai Comp is 1.2% lower following the news. Bourses elsewhere are mixed. The Hang Seng (-0.92%) is lower however the Nikkei (+0.17%) and Kospi (+0.21%) are modestly higher.
Later today we have the ECB policy statement and press conference where the focus looks set to be on the technical details and implementation plans of the €60bn a month QE program the central bank announced at its last meeting. As our European economics team highlighted in their last Focus Europe, big unanswered questions remain as to when exactly will the purchases begin, how the ECB will coordinate the purchasing by the NCBs, what is the precise structure of the purchasing 'benchmark? the ECB mentioned in the recently released accounts (minutes) of the 22 January meeting, how much flexibility will this benchmark have to deal with an NCB that fails to source its allocation of bonds, will the ECB be able to source EUR60bn of securities each month and what happens if the EUR60bn objective is not reached? That's a big list of questions that markets will look for answers for today, including in an Q&A session that will probably be dominated by it. Our economics team doesn't expect the technical details to deflate market confidence but more info will be welcomed.
We'll also see the latest staff forecasts. In DB's Focus Europe they write that the prevailing market consensus numbers are a good guide and thus expect forecasts for growth to rise modestly (0.1-0.2pp), with the preliminary print for 2017 being around 1.6%. The staff inflation forecast for 2015 is likely to drop sharply, reflecting what we already know about energy prices. Inflation in 2016 might be little changed. The interesting question is, what will the first staff forecast for inflation in 2017 be? The recent SPF expectation was 1.5%. The latest Bloomberg consensus is 1.4%. The dilemma for them is too low a number will assume policy failure and extended QE beyond Sept 2016 and too high a number might not be credible. It would certainly make bond yields look ridiculously low in many countries.
In terms of markets yesterday, despite relatively solid macro data across both the US and Europe yesterday, it was a case of contrasting moves in the respective equity markets. Indeed, in the US the S&P 500 closed -0.44% whilst in Europe the Stoxx 600 and DAX both finished +0.76% and +0.98% higher respectively. You could however say that the differences between the two regions were largely eroded when you take the large currency move into account though. The Euro tumbled 0.88% versus the Dollar to $1.108 and the lowest level since 2003.
With regards to the data, in the US the February ADP employment reading came in a touch below expectations but at a still healthy +212k (vs. +219k expected). Although the reading was down from an upwardly revised January number (+251k), the reading marks the 13th consecutive print above 200k. Our US colleagues believe that the print supports a sturdy payrolls number tomorrow and underlines what's been consistent and broad-based strengthening in the labour market for some time now. Elsewhere the ISM non-manufacturing reading improved slightly to 56.9 (vs. 56.5 expected) from 56.7 previously whilst the final February services PMI reading was revised up one-tenth to 57.1. The release of the Fed's Beige Book didn't offer too much in the way of surprises and instead painted a fairly positive tone. In particular, the report noted that 'economic activity continued to expand across most regions and sectors from early January to mid-February'.
Fedspeak yesterday was a bit more interesting however. The Kansas City Fed's George lent support to the hawks after comments that she sees a mid-year lift off as a necessary time frame and suggested that some time will pass before we see the full effects of interest rate decisions so monetary policy must be forward looking and act before the economy reaches the 2% inflation target. The Chicago Fed's Evans meanwhile – who sits at the dovish end of the scale – perhaps unsurprisingly, was noted as saying that a rate hike would not be appropriate until early next year. However, of more surprise to us was a slight change in his tone when suggesting he would not rule out removing the 'patient' language, instead saying that 'what's more important is that our Fed communications convey a sufficient amount of conditionality' (Reuters). Having chopped around lately, US 10y yields were more subdued yesterday and finished more or less unchanged at 2.117%.
Closer to home in Europe we saw some reasonably solid data also. Retail sales for the Euro-area in particular were strong with the +3.7% yoy reading ahead of expectations of +2.3%. In terms of the PMI's, there were some modest downward revisions to the February prints. Euro-area services (53.7 vs. 53.9 previously) and composite (53.3 vs. 53.5 previously) were down slightly and led by Germany in particular which had a 0.8pt downward revision to its services reading to 54.7, although we note still at the highest level since September last year. The first services reading for the UK was weaker than expected (56.7 vs. 57.5 expected). Bund yields continued their rise with the 10y benchmark yield 2.1bps higher at 0.383% - the highest yield since January 27th now.
With regards to Greece, the nation successfully raised the €1.138bn it was looking for in its 6-month T-Bill auction yesterday. With around €1.4bn due tomorrow in maturities, Reuters continued to report that the government is looking at using the cash reserves of pension funds and other state entities through repo agreements to cover some short term financing. After further commentary from Spanish Economy Minister Guindos that Greece would need a third bailout package, Reuters also reported yesterday that a German finance ministry spokesman said that there is no agenda for a discussion of a third program at Monday's Eurogroup meeting. Meanwhile the EC's Juncker also noted 'it is premature to talk about a third programe'.