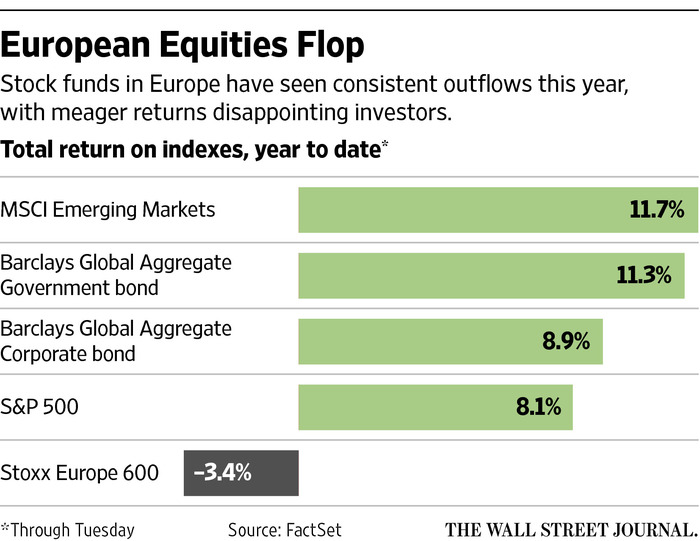 Are you the dumb money? 
Pretty much, by definition, you wouldn't know it if you were, would you?  The "smart" money, as we've noted all summer, has been flowing out of US equities but, according to the WSJ, it's gushing out of Europe at a pace that puts ours to shame.  Last week marked a record-breaking 29 consecutive weeks of outflows from European stock funds – 2 weeks more than the run that came ahead of the 2008 financial crisis.
This year's outflows ($86Bn) have reversed 2/3 of last year's inflows ($123Bn) with 1/3 of the year left or, in other words, ALL of the money is being withdrawn at the same pace it went in.  This makes perfect sense to us as we're about 2/3 cash too in our 4 Member Portfolios but, after all – we're the smart money!  
Despite ALL of the money being removed, like our own S&P holding up on no volume, the Euro Stoxx 600 is down just 3.4% and still a bit higher than it was at the start of 2015 – it's a magic trick who's fund-manager secret is to leave the index-leading stocks high (like AAPL in the US) while cashing in all the issues that won't move the needle much.  That keeps the dumb money flowing in – even while you are heading for the exits.

One big difference between Euro Stoxx and the S&P is the honesty of European companies in their guidance.  European companies have guided their earnings outlook down 30% for 2017 while S&P 500 CEOs are guiding up 17% – it's as if they do business on two different planets, not two different continents!  They don't lend to the same planet either with Euro Stoxx banks down 25% while US Banks are flat for the year.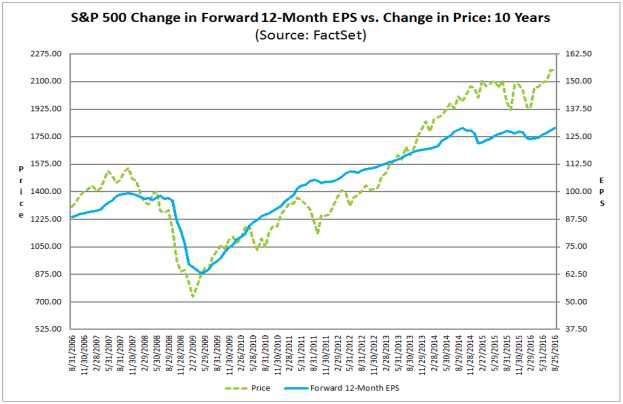 Even compared to the S&P 500's aggressive forward earnings guidance, market PRICES  are clearly out of control.  This FactSet chart, in fact, clearly illustrates why 1,850 is our Must Hold Line on our Big Chart – if prices were tracking earnings the way they usually do – that's where the S&P would be today but we're at 2,175 – 17.5% (325 points) above fair value – even if we accept these rosy outlooks as realistic.
A 325-point drop in the S&P (SPY) would send the Ultra-Short ETF (SDS), UP 35% and it's currently at $16.42, which does not make is a very attractive hedge unless you were planning on putting 1/2 of your money into it – that's why I never understand the purpose of these things.  But, on the other hand, if you understand stock options – you can make a lovely hedge out of it with this trade:
Buy 100 SDS Nov $16 calls for $1 ($10,000) 
Sell 100 SDS Nov $19 calls for 0.40 ($4,000) 
Sell 10 GOGO 2018 $10 puts for $2.30 ($2,300) 
Sell 10 TWTR 2018 $15 puts for $2 ($2,000)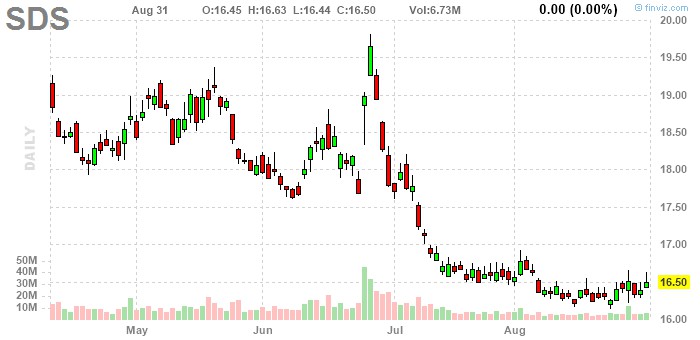 That puts you in the $30,000 spread for net $1,700 so that's the cost of insuring your portfolio for the next 10 weeks and you are also obligating yourself to buy 1,000 shares of GoGo Wireless (GOGO) if it falls below $10 (now $12.23, so a 20% discount) and you are obligating yourself to buy 1,000 shares of Twitter (TWTR) if it falls below $15 (now $19.45, so a 20% discount).  
The spread is currently $4,000 in the money so the only way you can lose is if the S&P goes higher and then you should be making money on the long positions you are protection, so all is well and, of course, if all is well, it's not likely you'll have to pay out on the short puts.  That's how we set up a hedge and you can pair it up with short puts against any stock you'd really like to own at a discount – these are just two of our favorites. 
Just like good fences make good neighbors (right Donald?), good hedges make good portfolios and you should always have some – just in case.  We think the market is ridiculously overpriced but we don't want to miss the rally if it gets even sillier so we try to find bargains where we can AND WE MAKE SURE WE HAVE HEDGES IN PLACE – I cannot emphasize enough how important this is.
There are other ways to hedge, of course.  Last Tuesday, for example, for free, right in our Morning post, we targeted $45 for oil Futures (/CL) – expecting a rough but rewarding ride and, for the Futures challenged, we suggested the USO Sept $11.50 puts at 0.52.  This morning it's at $44.50 for a $2,500 per contract gain in the Futures (you're welcome) 

The humble USO Sept $11.50 puts are already $1.25, so those are up $73 (140%) per contract since last week and you are welcome for that as well.  If you want to understand our logic on those picks and how we use the Futures, you can check out or lesson on it in the replay of our weekly Live Trading Webinar from that Wednesday.  We also short Gasoline (/RB) in last Tuesday's post and you would cry if you knew how much money you missed on that one – so I'll just say we're long now at $1.325 (see this week's live Webinar replay for our call to flip).
So you see, we can make plenty of money with our CASH!!! by making quick in and out plays like these while we wait for more rational markets to prevail.  We sent out a bullish Top Trade Alert yesterday and 3 others last week and I can't tell you what those were (Members Only) but I can let you take a peek at our Top Trade Review, where you can pick up some of our leftovers.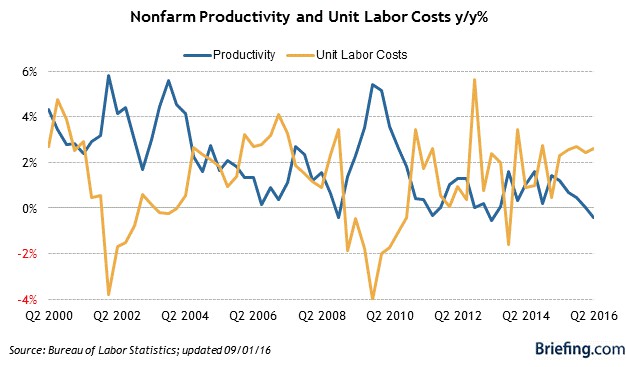 Meanwhile, Q2 Productivity is down 0.6%, revised from -0.5% in the prior report and Unit Labor Costs are flying, now up 4.3% vs 2% prior and 2.1% expected by leading economorons, who are actually paid just to make these 100% misses in their predictions – AMAZING!  
So, getting back to my point from above – let's do some much-needed Econ 101:  If the productivity of your plant is declining and the cost of your labor is rising, will your profits be better or worse next quarter?  Come on, it's not a trick question (unless you are an economic forecaster or US CEO, apparently).  That's right, your profits will be LOWER, not higher.  
Now you know why they call it dumb money.
Provided courtesy of Phil's Stock World.
Would you like to read up-to-date articles on the day they are posted? Click here to become a part of our growing community and learn how to stop gambling with your investments. We will teach you to BE THE HOUSE - Not the Gambler!