Technically speaking, the U.S. stock benchmarks' best six months seasonally — November through April — are poised to kick off amid an already powerful 2017 bull trend.
Consider that the Nasdaq Composite has sustained a late-month break to all-time highs, while the S&P 500 and Dow industrials continue to hold tightly to record territory. The charts below add color: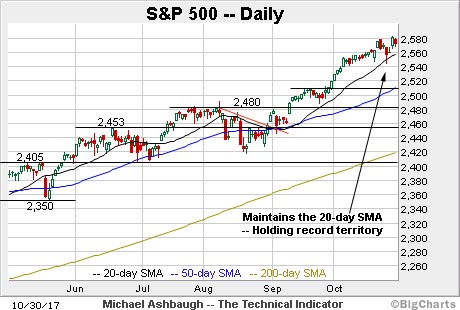 Before detailing the U.S. markets' wider view, the S&P 500's SPX, +0.09% hourly chart highlights the past two weeks.
As illustrated, the S&P has pulled in modestly from its latest record high.
Tactically, near-term support (2,564) is followed by the range bottom, circa 2,548. Last week's slight breakout originated from a successful test of the range bottom.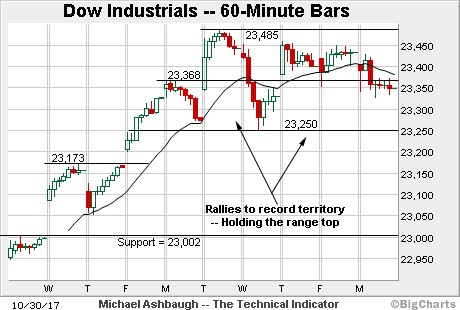 Meanwhile, the Dow Jones Industrial Average has not registered a new high across the prior two sessions, unlike the S&P 500 and Nasdaq Composite.
Still, the blue-chip benchmark is acting well technically.
A near-term floor matches last week's low, circa 23,250, and is followed by gap support, just above the 23,000 mark.