Will S&P500 hold above 2000 this Week?

12 september 2016
The S&P 500 index (SPX) has been in a lull in August, just hanging out at historic highs around 2190. However, there was a major sell-off, the strongest since late June.

SPX Daily Chart 9/12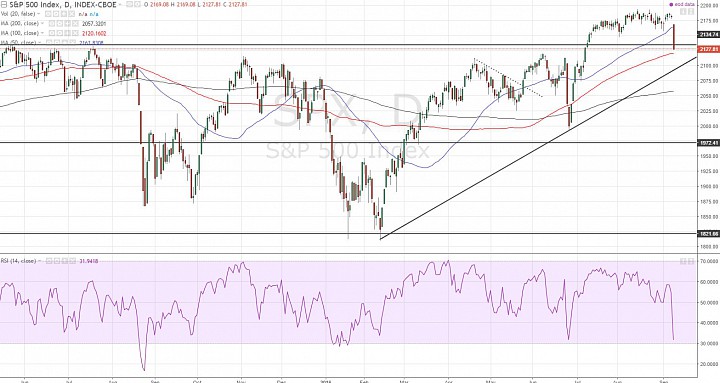 (click to enlarge)

Sharp reversals:
- Since price found support around 1820 in January, sharp sell-offs have been countered by sharp bullish reversals. 
- In hindsight we can say that these V-shape reversals suggested a bullish market ahead either as a reversal from the prevailing downtrend or a continuation of the prevailing uptrend. 
- The most recent V-shape reversal occurred when price fell sharply from above 2100 to 2000. 2000 was a psychological level as well as a support/resistance pivot area. 
- Back in February, price came down sharply but bounced up just as sharply after it tagged the previous low. Price eventually formed a double bottom.

Look for support around 2100:
- I would start looking for support around 2100 as price tests a rising trendline.
- A bullish divergence between the RSI and price action would increase the likelihood that we see a bounce off the 2100 area. 
- This is where I would consider a "reactive support". However, just because there could be buying at 2100, doesn't mean that there will be a sharp bullish reversal back into the uptrend like we saw in June. 
- The only thing I would say is that I think price can hold above 2100 this week. 

Voting is over
Waiting for


the right answer