December North Sea oil flow set to rise to four-year high
U.S. crude supplies rise record 14.4 million barrels: EIA
Oil dropped to the lowest since September as a global supply glut appears to be expanding.
West Texas Intermediate fell 1.5 percent for a fifth day of losses. North Sea producers in December will ship the most oil in more than four years, data compiled by Bloomberg show. Prices tumbled yesterday after the U.S. Energy Information Administration said stockpiles rose by a record 14.4 million barrels last week. OPEC members who are claiming exemption from an agreement to limit supplies helped boost the group's output to an all-time high last month.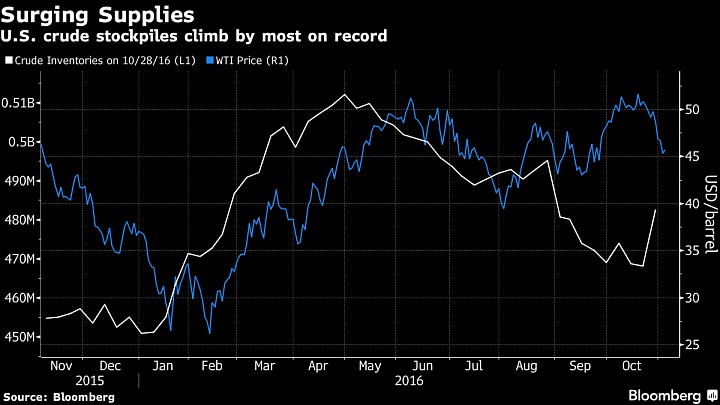 "If you're a bull you have to be disappointed," said Kyle Cooper, director of research with IAF Advisors in Houston. "The market ignored bullish inventory reports in recent weeks and then collapsed after yesterday's bearish data. Dissension is growing in OPEC and there's a growing suspicion that nothing worthwhile will come from the upcoming meeting."
Oil has retreated from near $50 a barrel, triggered by the failure of the Organization of Petroleum Exporting Countries to agree on country quotas last week as part of a deal to limit output. While Goldman Sachs Group Inc. sees little probability of an agreement at OPEC's Nov. 30 meeting, Bank of America Corp. is confident of an accord. OPEC's "jawboning" is contributing to instability in the market, according to Barclays...
More