McKesson's shares will reach $245 inmedium term

17 march 2015
I remain upbeat about the shares of McKesson Corporation, a US healthcare services and information technology company. The company's third-quarter fiscal 2015 financials were strong, with both revenues and earnings topping consensus estimates. Sales jumped 37% y-o-y driven by contribution from the Celesio acquisition and strong market growth. In particular, Pharmaceutical distribution business in North America benefitted from continuous demand for recently launched drugs for the treatment of hepatitis C and further penetration of generics. The specialty business also continued to benefit from the strong oncology, ophthalmology and rheumatology businesses. Adjusted earnings per share surged twofold supported also by strict cost control.
In full fiscal 2015, McKesson expects adjusted EPS in the range of $10.80-10.95 implying growth of around 30% from the fiscal 2014 figure. Revenues from the Pharmaceutical distribution business in North America are projected to grown in mid-teens from the prior year on the back of higher-than-planned branded drug sales, which in turn reflect the strong market demand for the hepatitis C drugs.
My outlook for the company remains optimistic as improving economic conditions in the US support the country's drug distribution market where McKesson is one of the major players. I also expect that McKesson will continue to pursue deals and acquisitions to drive growth. In my opinion, the Celesio acquisition is a step in the right direction that will allow McKesson to gain a strong foothold in Europe, thereby geographically expanding its core operations. The company expects synergies from the acquisition to become visible in the coming quarters.
With target price of $245, shares McKesson's, I believe, are attractive for medium-term investment.
<!== INSTRUMENT %% %1440% ==!>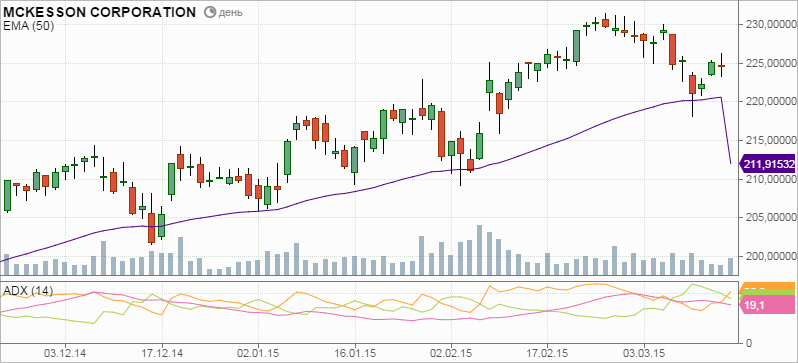 Voting is over
Waiting for


the right answer