Shunned... In this 'free-stuff-army' world full of expectations of moar for less (or nothing), it should come as no surprise that the ultimate buy-one-get-a-unicorn-free clothes retailer - Men's Warehouse - just unleashed a 30% off sale on its stock. Due to a self-described "decline in traffic" as the firm transitioned away from the Buy-One-Get-Three-Free campaign, comparable store sales are expected to collapse 20-25%. This has smashed the stocks to its lowest since August 2012...
Carnage...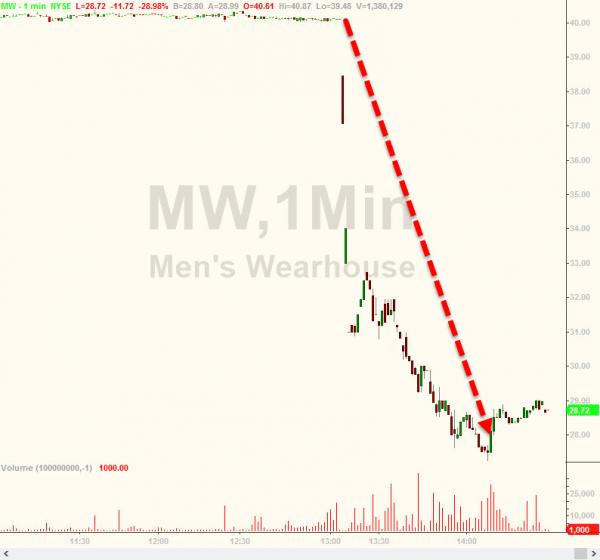 To over 3 year lows...

During the third quarter comparable sales decreased 14.6% at Jos. A. Bank, far below the Company's earlier expectations.  This decrease was primarily driven by a decline in traffic as the Company began the transition away from the Buy-One-Get-Three promotional events.
Doug Ewert, Men's Wearhouse chief executive officer, stated, "We are obviously disappointed by the third quarter results at Jos. A. Bank. Toward the end of the quarter, we reduced the number of Buy-One-Get-Two Free and Buy-One-Get-Three Free days in anticipation of our final Buy-One-Get-Three Free event.  While we expected top-line volatility, as we previously stated, we did not anticipate that the impact from the traffic decline would occur to this degree, primarily because the prior year comparisons got progressively easier as the quarter progressed.  We also believed the timing of the final Buy-One-Get-Three Free event in October would do more to offset earlier traffic declines than it did.

 

"Despite these results, we continue to believe that transitioning away from the unsustainable promotional strategy we inherited from Jos. A. Bank and accelerating our new promotional strategy is the right thing to do for the long-term success of the Jos. A. Bank business.

 

Fourth quarter comparable sales at Jos. A. Bank are now expected to decrease between 20% and 25% resulting from both a decline in traffic continuing from the third quarter trend and a previously expected decline in units per transaction as customers adapt to the shift in the promotional strategy.  The Company expects its legacy retail brands to average a comparable sales increase of 3% to 4%.

 

With the updated outlook, the Company now believes adjusted EPS for fiscal 2015 will be between $1.75 and $2.00.  This compares to our previous guidance of $2.70 to $2.90 for adjusted EPS.  Synergies remain on target for the quarter and the year.  The Company will discuss both fiscal 2016 and fiscal 2017 guidance when fiscal 2015 results are reported.
*  *  *
Inconceivable...