Celgene Corporation CELG reported mixed results in third-quarter 2017 wherein earnings beat expectations but sales failed to meet estimates.
The company reported adjusted earnings of $1.91 per share which beat the Zacks Consensus Estimate of $1.88, up from $1.58 in the year-ago quarter.
Total revenues grew 10.2% to $3.29 billion in the quarter but missed the Zacks Consensus Estimate of $3.42 billion. Revenues were boosted by consistent performance of the company's key growth driver, Revlimid. However, sales of Otezla in the United States were weak.

Celgene's stock has fallen 3.5% in the last six months as against the industry's gain of 3.2%. Shares of the company are down in the pre-market trading due to revenue miss in the third quarter. The stock was hit earlier after a phase III trial, REVOLVE, (CD-002) on pipeline candidate GED-0301 in Crohn's disease and the extension trial, SUSTAIN (CD-004) was discontinued.
Revlimid Continues to Shine
Net product sales increased 10.6% year over year to $3.28 billion. Net sales of Revlimid came in at $2.0 billion, reflecting 10% year-over-year growth. The drug performed well in the United States (up 17.9%). Growth in the reported quarter was driven by increased volume as a result of increases in duration of treatment and market share.
Net sales of another cancer drug, Abraxane increased 7.7% to $251 million as sales grew both in the United States and international markets. Sales of oncology drug, Pomalyst/Imnovid, came in at $417 million, up 22.3%. Sales were driven by increased volume from duration gains.
Otezla reported sales of $308 million in the reported quarter, up 12%. Sales in the United States were impacted by an increase in gross-to-net adjustments from contracts implemented in January and a slowing in overall category growth due to a more challenging market access environment.
All other product sales (including Istodax, Thalomid, Vidaza and an authorized generic version of Vidaza in the United States) totaled $226 million in the reported quarter, down from $228 million from the year-ago quarter.
Adjusted research and development expenses increased 8.6% to $698 million due to increased spending related to drug discovery and clinical trial activity while adjusted selling, general and administrative expenses decreased 11.8% to $521 million.
Last month, Celgene announced that the FDA put a hold on several trials in the FUSION program. Partial clinical hold has been put on five trials and a full clinical hold on one trial. The trials were evaluating Imfinzi, an anti-PD-L1 antibody, in combination with immunomodulatory and chemotherapy agents in blood cancers such as multiple myeloma, chronic lymphocytic leukemia and lymphoma. Celgene entered into a strategic collaboration with AstraZeneca PLC's AZN MedImmune in April 2015 to develop and commercialize Imfinzi for hematologic malignancies in combination with Revlimid, Pomalyst, Vidaza and others. The FDA placed a hold on these trials due to risks identified in other trials for an anti-PD-1 antibody, Merck & Co.'s MRK Keytruda, in patients with multiple myeloma in combination with immunomodulatory agents.
Celgene Corporation Price and EPS Surprise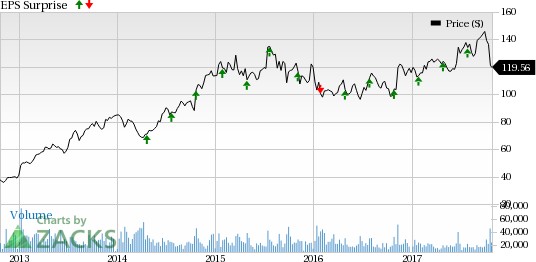 Celgene Corporation Price and EPS Surprise | Celgene Corporation Quote
2017 Outlook Updated
Celgene updated its guidance for 2017. The company anticipates earnings in the range of $7.30-$7.35 compared with the previous guidance of $7.25-$7.35 per share. The Zacks Consensus Estimate for earnings is $7.34 per share. Revenues are now projected at $13 billion compared to the earlier projection of $13-13.4 billion.
Revlimid sales are projected between $8 billion and $8.3 billion. Abraxane sales are estimated to be around $1 billion. Pomalyst's revenues are projected around $1.6 billion. However, Otezla sales are now projected at $1.25 billion, down from the previous projection of $1.5-$1.7 billion.
Our Take
Celgene's third-quarter results were mixed with the company beating on earnings but missed on sales estimates. While Revlimid sales were impressive yet again, Otezla sales in the United States were weak which led the management to reduce annual guidance for the drug. Consequently, the company updated its annual guidance.
In August 2017, the company obtained FDA approval for Idhifa (enasidenib) for the treatment of relapsed and/or refractory acute myeloid leukemia (AML) with isocitrate dehydrogenase 2 (IDH2) mutation. The drug was developed in partnership with Agios Pharmaceuticals, Inc AGIO. Going forward, we expect approval of new drugs to boost the top line.
Zacks Rank
Celgene is a Zacks Rank #3 (Hold) stock. You can see the complete list of today's Zacks #1 Rank (Strong Buy) stocks here.
Looking for Stocks with Skyrocketing Upside?
Zacks has just released a Special Report on the booming investment opportunities of legal marijuana. Ignited by new referendums and legislation, this industry is expected to blast from an already robust $6.7 billion to $20.2 billion in 2021.
Early investors stand to make a killing, but you have to be ready to act and know just where to look.
See the pot trades we're targeting>>
Want the latest recommendations from Zacks Investment Research? Today, you can download 7 Best Stocks for the Next 30 Days.
Click to get this free report
Astrazeneca PLC (AZN): Free Stock Analysis Report
Merck & Company, Inc. (MRK): Free Stock Analysis Report
Agios Pharmaceuticals, Inc. (AGIO): Free Stock Analysis Report
Celgene Corporation (CELG): Free Stock Analysis Report
To read this article on Zacks.com click here.
Zacks Investment Research