- Tesla reported $1.56 billion in revenue in the year to Q2 2016. Expectations were around $1.62 billion. 
- Earnings per share, or in this case loss per share was -$1.06 vs. expectations of -$0.55.
- The caveat is that production capacity is improving: According to NYTimes, "Tesla's chief executive, Elon Musk, said the automaker was on track to build 50,000 vehicles in the second half of the year — despite missing its production targets in the first six months." (NYTimes.com)
Telsa Earnings Report

220.00 could be key:
TSLA Daily Chart 8/4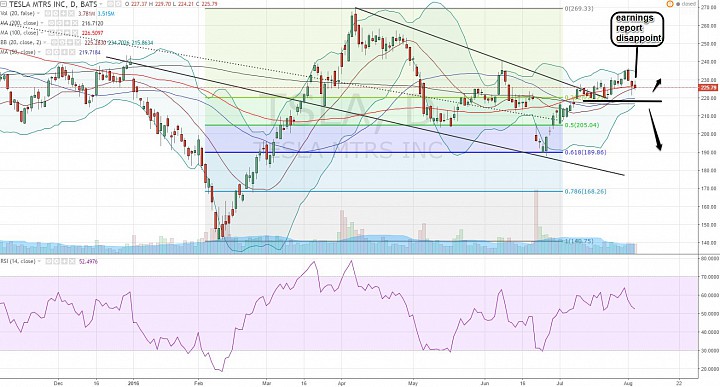 (click to enlarge)
Retreat; still bearish:
- As we can see in the daily chart, the market has been fading TSLA this week even ahead of the disappointing earnings report.
- It should be noted that even though price broke above a falling resistance in July, this week's high missed the high in June around 240.00.
- Basically, we continue to have a picture of lower highs and lower lows.
- Now, I would give some credit to the bullish swing from late June throughout July. Price did break the falling resistance and climb above the cluster of 200-, 100-, and 50-day simple moving averages (SMAs).
- However, the RSI didn't really clear 60 and definitely didn't tag 70, showing that bulls are weak.

The 220 pivot:
- There is a pivot area around 220. 
- If price falls below 220, or 219, the bullish bias coming out of the bullish breakout will be gone.
- TSLA will be exposed to at least 200, and possibly 190 if it falls below 219. 
- If price holds above 220, then, there is still risk that price can climb to challenge the 240 resistance pivot. If this is the case, I would assume that the market focused on the caveat that there is some fundamental growth despite the losses earlier in the year.