It's the most wonderful time of the year —for stocks, that is.
All major U.S. indices are sitting near all-time highs, and one technician thinks there's even more room to run. The dynamic inspired by President-elect Donald Trump and the aftermath of the U.K.'s vote to quit the European Union appear to be converging, which may be good news for investors.
All told, it suggests the traditional "Santa Claus" rally that investors see around the holidays could easily become the 'Santa Trump' surge instead.
"We have an overlay of the post-election rally with the post-Brexit rally in the S&P and it is a pretty good fit," explained Bank of America's top technician Stephen Suttmeier on CNBC's "Futures Now" in a recent interview. "The market is going up at about the same pace as it did after that big risk-off move going into Brexit."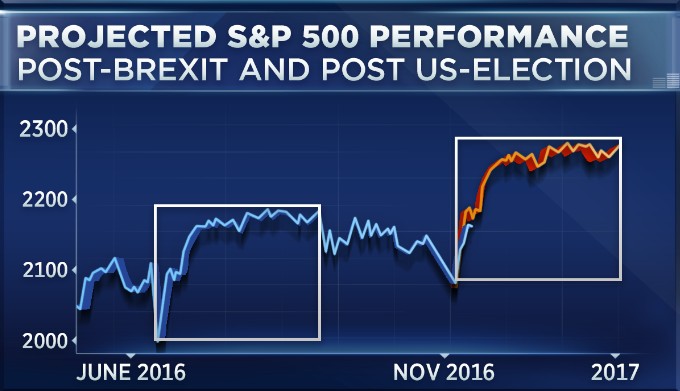 Indeed, in the eight days following Brexit and the U.S. presidential election, the S&P 500 Index gained 3 and 2 percent, respectively. The...
More