Retail sales disappointed in July. Growth (in volume) was only 0.1% on the month, which missed forecasts of around a 0.4% growth. June's reading was 0.2%. On the year the growth was 2.6%, which is the lowest since Nov. 2013. 
(Source: Office for National Statistics)
The GBP/USD has been already bearish since mid-July when you established the 2014-high at 1.7191 then started to decline. This week, we had soft inflation data that dragged GBP/USD to new lows on the month. Then hawkish BoE minutes helped it find support briefly, but hawkish FOMC minutes during the same session trumped the BoE minutes and GBP/USD fell to 1.66, then to 1.6563. After a brief rally attempt, the disappointing UK retail sales report seemed to have blocked it from going above 1.66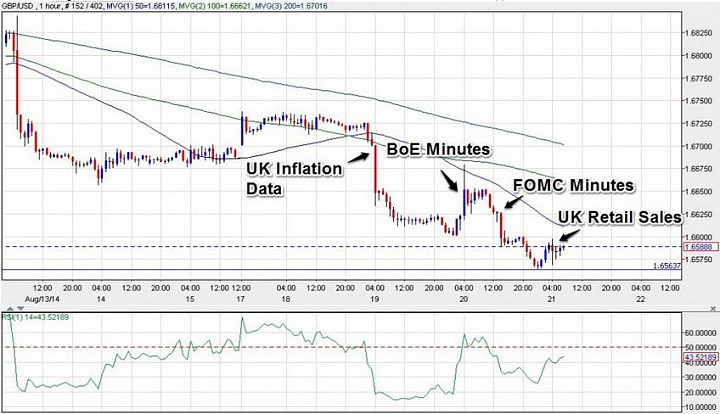 (GBP/USD 8/21 1H Chart)
There is still some downside risk toward the 1.6551 pivot and low in April, then the 1.6465 March low. It will take a break above 1.67 to signal a consolidation/correction of any significance, which has not happened yet during this bearish trend since mid-July. 
If there is an intra-session rally, and the 1.66 breaks, look for resistance at the 1.6625 support/resistance pivot seen in the 1H chart, especially if the 1H RSI approaches 60.