Hologic Inc.HOLX is scheduled to report second-quarter fiscal 2016 financial numbers on Apr 27, after market close. 
Last quarter, the company posted a positive earnings surprise of 9.52%. Impressively, Hologics' earnings surpassed the Zacks Consensus Estimate in all of the past four quarters, with an average beat of 6.82%.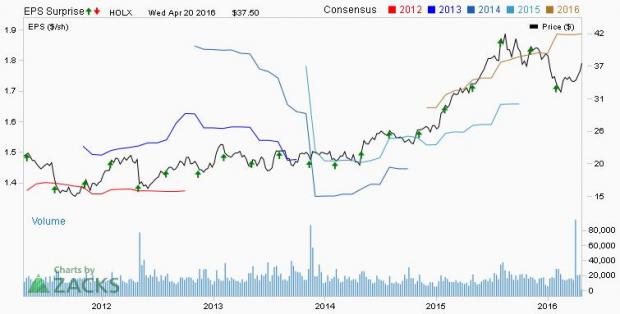 Let's see how things are shaping up prior to this announcement.
Factors at Play
Last quarter, Hologic witnessed a rebound in its U.S. business, the momentum being driven by its renowned Genius 3D mammography products. A similar trend is expected in the yet-to-be-reported quarter's results as well.
Management is enthusiastic about the future prospects of its mammography business, which continued to reflect stable price despite competition and also gained traction in the U.S. market. The fact that Hologic entered the prestigious S&P 500 index during the second quarter will help the company maintain its legacy as one of the major players in the mammography equipment market.
Moreover, Hologic's management has stated that the company's operating margin is among the highest in the sector and is expected to expand further in the quarters ahead. We expect such operating margin expansion to boost Hologic's fiscal second-quarter results.
Further, in response to the company's multi-year tax improvement strategies, a lower 2016 guidance for effective tax rate, compared to the earlier guided figure, contributed a penny to Hologic's first-quarter EPS figure. Management expects to observe further progress in this initiative; which in turn might add more value to Hologics' EPS figure in the remaining quarters of 2016.
Overall, for second-quarter fiscal 2016, Hologic expects revenues of $680–$690 million, representing annualized growth of 3.7%–5.3% and 4.5%–6% at CER. Adjusted EPS is projected at 45–46 cents (reported growth of 9.8%–12.2% and 11.2%–13.6% at CER). The current Zacks Consensus Estimate for revenues and EPS are $686 million and 46 cents, respectively.
Although the top-line guidance for the second quarter reflects growth on a year-over-year basis, revenues are likely to witness a sequential decline. Management considers potential weakness in its international business to be one of the factors behind the decline. Another cause can be the seasonal fragility Hologic's surgical business faced in the second quarter, when compared to this business' prior-quarter performance.
In addition, management expects to record a substantial increase in research and development (R&D) expenses, on account of its project timings. Currency and share count headwinds are also a matter of concern.
Earnings Whispers
Our proven model does not conclusively show that Hologic is likely to beat earnings this quarter. That is because a stock needs to have both a positive Earnings ESP and a Zacks Rank #1, 2 or 3 for this to happen. That is not the case here as you will see below.
Zacks ESP:  Hologic has an earnings ESP of 0.00%.That is because both the Most Accurate estimate and the Zacks Consensus Estimate are pegged at 46 cents.
Zacks Rank: Hologic has a Zacks Rank #2 (Buy)which increases the predictive power of ESP. However, a 0.00 % ESP makes surprise prediction difficult.
We caution against stocks with a Zacks Rank #4 or 5 (Sell-rated stocks) going into the earnings announcement, especially when the company is seeing negative estimate revisions.
Stocks to Consider
Here are some companies you may want to consider as our model shows they have the right combination of elements to post an earnings beat in the upcoming quarter:  
PAREXEL International Corporation PRXL, earnings ESP of +2.25% and a Zacks Rank #1.
Gilead Sciences Inc. GILD, earnings ESP of +1.65% and a Zacks Rank #2.
Zimmer Biomet Holdings, Inc. ZBH, earnings ESP of +1.04% and a Zacks Rank #2.
Want the latest recommendations from Zacks Investment Research? Today, you can download 7 Best Stocks for the Next 30 Days. http://www.zacks.com/registration/pfp/?ALERT=RPT_7BST_LP194&... blog">Click to get this free report >>
Want the latest recommendations from Zacks Investment Research? Today, you can download 7 Best Stocks for the Next 30 Days.
Click to get this free report
HOLOGIC INC (HOLX): Free Stock Analysis Report
GILEAD SCIENCES (GILD): Free Stock Analysis Report
PAREXEL INTL CP (PRXL): Free Stock Analysis Report
ZIMMER BIOMET (ZBH): Free Stock Analysis Report
To read this article on Zacks.com click here.
Zacks Investment Research