Bed Bath & Beyond Inc. BBBY has been losing investors' confidence owing to its dismal earnings surprise history. Evidently, the stock of this home furnishings retailer has tanked 29.4% in the last one year, underperforming the Zacks categorized Retail – Miscellaneous/Diversified industry's drop of 7.4%. Also, since its first-quarter fiscal 2017 results, that were announced less than a fortnight back, Bed Bath & Beyond lost almost 10%.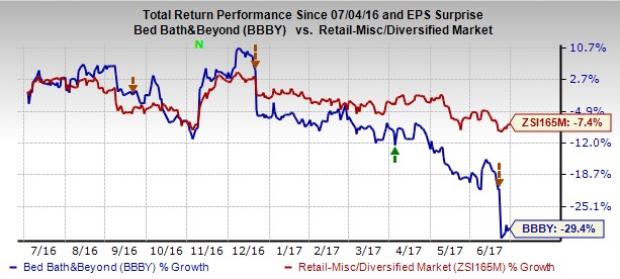 Let's take a closer look at the factors which have been weighing upon this Zacks Rank #5 (Strong Sell) stock.

What's Hurting BBBY?

With consumers shifting their preferences to online shopping Bed Bath & Beyond has been reeling under sluggish mall traffic for a while now. This was also a major deterrent in the company's first-quarter performance, wherein both the top and bottom line missed estimates and earnings fell year over year.

Apart from the sluggish store traffic which intensified this quarter, results were dented by increased net-direct-to-consumer shipping costs and higher coupon and advertising costs. While the first quarter usually records the least amount of the company's annual sales and earnings, management stated that the company faced excess sluggishness in store transactions this quarter along with greater costs.

Also, Bed Bath & Beyond has been grappling with soft margins for a year now. While the gross margin contracted 90 basis points (bps) in first-quarter fiscal 2017, it declined 60 bps, 80 bps and 70 bps in the fourth, third and second quarters of fiscal 2016, respectively. The decline in gross margin in this quarter stemmed from higher direct-to-customer shipping expenses, alongside rise in coupon expense on account of increased redemptions. This, along with a rise in SG&A expenses caused the operating margin to decrease 240 bps year over year. This marked the company's fourth straight quarter of operating margin decline as well.

Nonetheless, results were slightly cushioned by continued strength in digital sales, which also helped the top line to improve marginally in the quarter. Notably, comps from customer-facing digital networks grew over 20% in the quarter.

However, management retained its previously issued unimpressive outlook for fiscal 2017, as it expects better visibility after the second quarter. The company continues to anticipate the gross margin to decline in fiscal 2017, alongside expecting SG&A deleverage. Further, the company continues to envision fiscal 2017 earnings per share to decline in the range of low-single digits percentage to 10%.

The disappointing quarter and outlook also caused a downtrend in the Zacks Consensus Estimate for the second quarter and fiscal 2017, over the past 30 days. Additionally, Bed Bath & Beyond faces various risks associated with international operations, especially unfavorable currency fluctuations, owing to its international exposure. In fact, adverse currency has been a major dampener for the company, which has lagged our earnings estimate by an average of 7.1% in the trailing four quarters, including three quarters of negative surprise. Hence, any persistence of these headwinds is likely to weigh on the company's results.
Bed Bath & Beyond Inc. Price and Consensus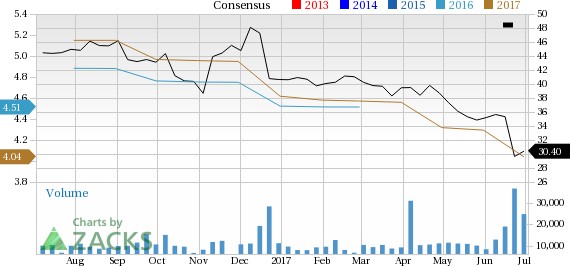 Bed Bath & Beyond Inc. Price and Consensus | Bed Bath & Beyond Inc. Quote
While Bed Bath & Beyond's efficient merchandise strategy and focus on developing digital networks usher in some positivity, it is yet to be seen if these efforts can help the company come out of the woods.

Until then, investors can safely place their bets on better-ranked stocks like Big 5 Sporting Goods Corporation BGFV, Five Below, Inc. FIVE and Office Depot, Inc. ODP.

Big 5 Sporting has a long-term earnings growth rate of 9%, and has a superb earnings surprise history. Further, the company sports a Zacks Rank #1 (Strong Buy). You can see the complete list of today's Zacks #1 Rank stocks here.

Five Below, with a long-term earnings growth rate of 28.5%, currently carries a Zacks Rank #2(Buy).

Office Depot, which also carries a Zacks Rank #2, has a long-term earnings growth rate of 10.9%.

5 Trades Could Profit ""Big-League"" from Trump Policies

If the stocks above spark your interest, wait until you look into companies primed to make substantial gains from Washington's changing course.

Today Zacks reveals 5 tickers that could benefit from new trends like streamlined drug approvals, tariffs, lower taxes, higher interest rates, and spending surges in defense and infrastructure. See these buy recommendations now >>
Want the latest recommendations from Zacks Investment Research? Today, you can download 7 Best Stocks for the Next 30 Days.
Click to get this free report
Office Depot, Inc. (ODP): Free Stock Analysis Report
Big 5 Sporting Goods Corporation (BGFV): Free Stock Analysis Report
Bed Bath & Beyond Inc. (BBBY): Free Stock Analysis Report
Five Below, Inc. (FIVE): Free Stock Analysis Report
To read this article on Zacks.com click here.
Zacks Investment Research