I am not too excited about going short for USD/JPY, but price action has recently been pointing that way at least in the short-term. 

USD/JPY 1H Chart 8/18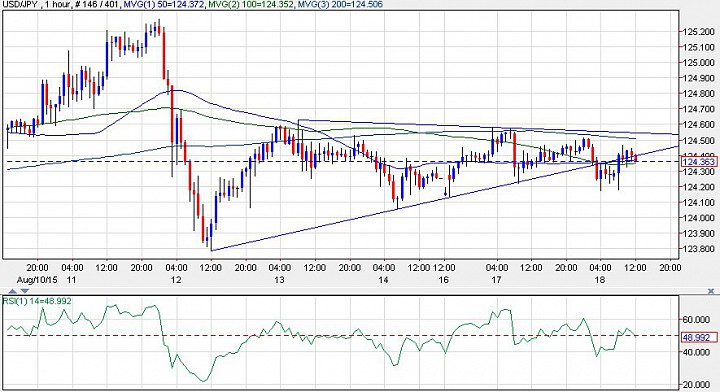 (click to enlarge)

The 1H USD/JPY chart shows the pair consolidating in a triangle since falling from 125.28 to 123.78. Now that was a dramatic dip and could be a sign of bearish pressure going into the medium-term. In the short-term, price action has curled up in a triangle, but if you look closely bearish candles have been stronger than the bullish ones. 

Also, there is a break below the rising trendline and triangle support. This is telling us that the market is leaning to the downside ahead of tomorrow's (8/19) CPI data and FOMC minutes. IF the FOMC minutes show some dovish bias, the market might price out of a year-end rate hike, which means the USD/JPY might fall. That outlook has at least the 123.78 low and perhaps a lower pivot near 123.00. 
On the other hand, I think if the FOMC maintains that it is looking into raising rates by year's end, the USD/JPY might push higher. If USD/JPY climbs back above 124.60, it would negate the strong bearish candles in the 4H chart above. This scenario would revive the 125.28 high. And if price can push to 125.28, it might build momentum towards the high on the year at 125.85.