Shares of Allstate will reach $76 in medium term

20 january 2015
I believe that shares of Allstate (ALL), the largest publicly traded US home and auto insurer, possess a significant growth potential from current level. The company, in my opinion, will continue to benefit from the growing US economy along with rising auto and home insurance rates. This, combined with good underwriting discipline, solid balance sheets and enhanced risk management, should allow Allstate to demonstrate solid financials in the coming quarters.
In 2014, Allstate appeared to fare well in its strategic operating priorities charted out at the beginning of the year. Management's proactive approach in maximizing returns while minimizing risks is showing results, with the company's underlying combined ratio within the targeted range of 87% to 89%. Additionally, improved core growth from agency expansions and strong distribution network within both homeowners' and auto insurance businesses bode well for long-term growth.
Alongside, Allstate's capital and cash positions remain secure, as evident from accelerated and expanded share buyback program as well as incremental dividend payouts. The company bought back shares worth about USD 926 mn through open market operations during the last reported quarter. The board further expanded the USD 2.5 bn share repurchase program, authorized in February 2014, by another USD 750 mn. The buyback is projected to be executed by December 2015. Q3 dividend was 28 cents per share (up 12% from the prior-period payment), with indicated dividend yield of 1.6%.
With target price of USD 76, Allstate's shares are attractive for medium-term investment, I think.
<!== INSTRUMENT %% %1440% ==!>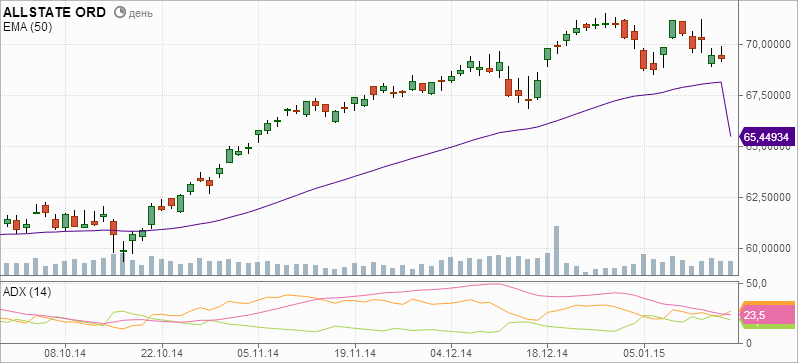 Voting is over
Waiting for


the right answer