Shares of Vulcan Materials will reach $105 in medium term

14 august 2015
Vulcan Materials, one of the US largest producers of construction aggregates, concrete and asphalt, issued solid financial report for the second quarter of 2015. Revenues increased 13% y-o-y to $895 mn owing to strong demand for construction activities across the markets served by the company, and surpassed the consensus estimate of $865 mn. Hurt by extremely humid weather in April and May, aggregates shipments (volumes) rose 9% to 47.5 mn tons, with average freight-adjusted sales price up 6%. Adjusted EBITDA jumped 33% y-o-y to USD 229 mn, and EBITDA margin climbed 380 basis points to 25.6%. Adjusted earnings of 66 cents per share surged 83% y-o-y and came in line with analysts' average forecast.
Vulcan continues to pursue attractive bolt-on acquisitions. In Q2, the company completed the purchase of three aggregates facilities and seven ready-mixed concrete operations in Arizona and New Mexico for approximately USD 21 mn.
Based on the current market situation, the company continues to expect adjusted EBITDA in the range of USD 775-825 mn in 2015, compared with USD 600 mn in 2014. The results are expected to be driven by improvement in both aggregates pricing, better profits in the non-aggregates segments and lower costs.
The company expects aggregate pricing to continue increasing, with more aggressive hikes in the second half of 2015. However, extreme humidity in April and May delayed the work schedule, which is expected to hurt volumes in the upcoming quarters.
With target price of USD 105, Vulcan's shares, in my opinion, look nice for medium-term investment.
<!== INSTRUMENT %% %1440% ==!>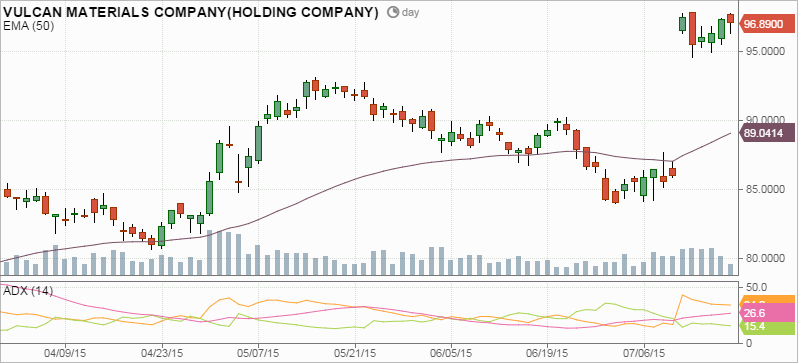 Voting is over
Waiting for


the right answer