In an era of low interest rates, income investors are hungry for yield. One area that has been satiating that appetite for income is master limited partnerships, or MLPs. However, investors should avoid investing in an MLP based solely on its current yield. Instead, investors should look for the following five characteristics in a potential MLP investment.
1. A master limited partnership should have a bounty of fee-based assets
As we've seen over the past year, commodity prices can change on a dime. That can have a devastating impact on companies that derive their income from commodity prices as it fluctuates with those prices. That fluctuating cash flow isn't something income investors want because it could cause an MLP to cut its distribution.
Because of this, investors should seek MLPs that derive most of their income from fee-based assets because this provides stability. A good example of this is Targa Resources Partners (NYSE:NGLS), which continues to steadily grow its fee-based income as we can see on the slide below.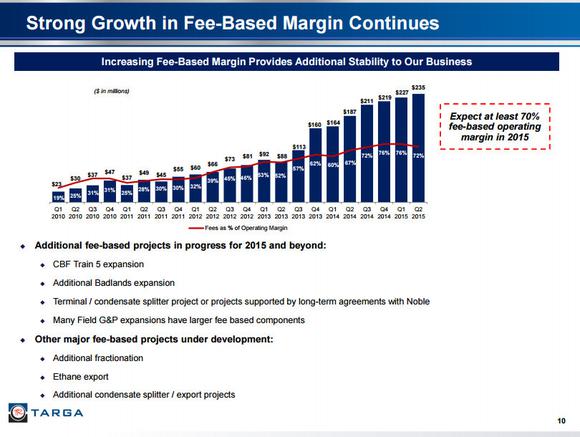 2. A master limited partnership should have a solid balance sheet
Another critical foundation for an MLP is a strong balance sheet. Ideally, investors should seek out an MLP that carries an investment grade credit rating, which as defined by Standard & Poor's is a rating at or above BBB-. However, investors don't need to completely disqualify MLPs that aren't investment rated as some are just not large enough to garner that rating or are in the process of building out several major capital projects that will eventually earn them that rating. As such, another good general rule of thumb is to seek out an MLP that has a debt-to-EBITDA ratio of 4.0 times or less. Using Targa Resources Partners again as an example, it would fit this mold as its debt-to-EBITDA ratio was 3.8 times after its most recent quarter.
3. A master...
More