1) Indicators analysis
| | | |
| --- | --- | --- |
| | Company | Industry |
| P/E Ratio (TTM) | 15.95 | 26.52 |
| Dividend Yield | 1.53 | 1.47 |
| Gross Margin | 25.76 | 23.82 |
| Total Debt to Equity (MRQ) | 69.20 | 29.18 |
| Return on Investment (TTM) | 14.27 | 7.24 |
In my opinion this company is underestimate especially compare to the industry. Main concern is total debt. But they made some merges such as Veyance technologies(conveyor belts, hoses, drive belts) and Electrobit Gmbh (soft-ware complex vehicle systems).
| | | | | | | |
| --- | --- | --- | --- | --- | --- | --- |
| | 9 month 2015 | 9 month 2014 | 2014 | 2013 | 2012 | 2011 |
| Net sales | 29216,2 | 25587,6 | 34505,7 | 33331 | 32736,2 | 30504,9 |
| Net income attributed to the shareholders of the parent | 2084,3 | 1798,9 | 2375,3 | 1923,1 | 1883,5 | 1242,2 |
| Basic earning per share | 10,42 | 8,99 | 11,88 | 9,62 | 9,42 | 6,21 |
2) News background
Continental AG fell the most in eight weeks after the German car-parts maker stuck to its 2015 revenue forecast as slowing economic growth holds back gains in global vehicle markets.
The Hanover-based manufacturer, which raised its sales forecast three times this year, said it still expects revenue in 2015 to exceed 39 billion euros ($42 billion). They had nearly 74% of sales plan in 9 month.2015. So we can expect that they will execute a sales plan.
The company, Europe's second-biggest car-parts manufacturer and its No. 2 tiremaker, is maintaining the sales forecast "despite the substantial decrease in production volumes in China in the third quarter" as well as an "intensified slowdown" in other manufacturing industries, Continental said.
We can see right now trend that shows that the price per share coped with negative pressure. Right now shares trades near 215. In long-term, they could rise to 52Wk max 234.25, or even higher, if they execute a sales plan of course.

Good results of the year willcountervail this numbers. And of course Continental diversifies business. They merge Electrobit Automative Gmbh. Continental will strengthen its technology development of systems, included systems for automotive driving.
Continental, Europe's second-biggest car-parts manufacturer and the region's No. 2 tire producer, is benefiting fromcommodity pricesthat are at a 16-year low, including a six-year low for rubber. The German company raised its forecast on Monday for positive effects from raw-material cost reductions by 25 percent to 250 million euros. This is long-term advantage.
At the Geneva International Motor Show 2015 was featured the new Toyota Avensis and Toyota Auris was featured- Europe's first model equipped with a special package of systems Toyota Safety Sense. By 2018, active safety systems based on radar and cameras Toyota Safety Sense will be equipped with most of the passenger cars Toyota. Use the revolutionary Toyota Safety Sense complex will significantly reduce the number of accidents on the road. For the integrated new sensor module Continental has integrated a camera and an infrared lidar into a single compact unit. The unit is being supplied to Toyota for their new Toyota Safety Sense C. This multi-function camera with lidar, which was put into production this year, is part of of comprehensive portfolio of surrounding sensors.In next three years we could feel financial effect from this technology and it will enhance the value of the shares significantly.
3) Technical analysis
In terms of technical analysis we can not unequivocally declare the entry point. On the one hand we see a clear line of resistance, but stochastics says more about underestimation. Therefore it is recommended to enter the paper be part, based on the Fibonacci resistance levels (207.8, 200.7, 193).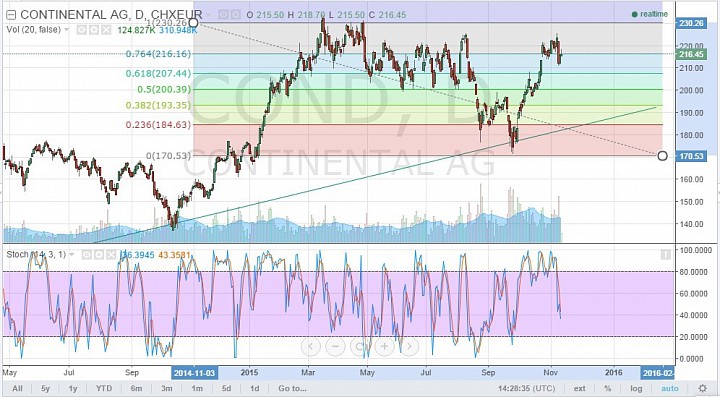 4) Recommendation
Finally, we recommend Continental AG to buy, because the the stock has serious potential to upgrade its maximum. It recommended to focus on the 10 percent growth in the short term.
The main potential risk is relatively big debt of the company. Howewer, we do not consider it as a serious threat because the company has enough resources to service it.