Microsoft Corp. MSFT recently launched a service, called Azure Stack, which will allow customers to use its cloud platform, Azure, from their own servers. This new service is anticipated to provide Microsft a competitive edge over peers like Amazon AMZN and Alphabet GOOGL.

The new service is aimed at customers who are not very comfortable with using shared data centers. This can be thought of as a type of hybrid cloud service. The services available in Azure will be extended to on-premise data centers. Per Microsoft, the new equipment and servers needed to run the service will be supplied by Dell EMC, Lenovo Group and Hewlett Packard Enterprise Co HPE. The service is expected to be available in September this year.

Azure Stack will be particularly helpful for companies operating from remote locations, where connecting to the internet becomes difficult. Moreover, the safety quotient is higher with the data being stored in private servers.

We believe this will be another driving factor for Microsoft's overall cloud segment, which will add to its top-line growth going forward. Notably, the company has outperformed the S&P 500 on a year-to-date basis. While the index gained 9.7%, the stock returned 13.9% over the same time frame.


Microsoft's Growth Prospect in Hybrid Cloud Segment

The arrangement of the service can be compared to a type of hybrid cloud setup, where the user can select a specific hybrid deployment required for a particular project. With dedicated servers, the system becomes more secure.

Per Gartner, 90% of organizations will adopt hybrid infrastructure by 2020. Cloud-compute services are expected to grow from $23.3 billion in 2016 to .4 billion in 2020. Hosting and collocation spending is also expected to surge to $74.5 billion in 2020 from $53.9 billion in 2016. Infrastructure Utility Service (IUS) is projected to grow from $21.3 billion in 2016 to $37 billion in 2020 while storage as a service will rise from $1.7 billion in 2016 to $2.7 billion in 2020.
Microsoft Corporation Revenue (TTM)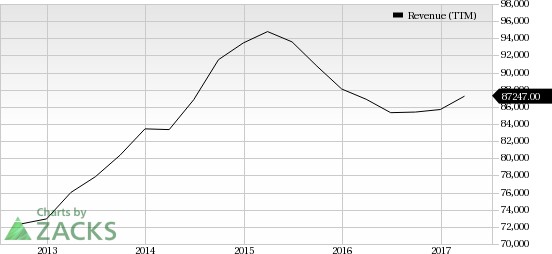 Microsoft Corporation Revenue (TTM) | Microsoft Corporation Quote
We note that in a situation where the world is continuously facing virus attacks, like Petya and Wannacry, people are worried about securing their data and valuable information. Microsoft is well positioned to grab the positives of market growth. This, in turn, will eventually boost its own results with products and services like Azure Stack, which are devoted to specific users.
Azure, which is currently noted as the second best cloud service provider after Amazon's Web Services, is surely to gain some momentum for a tough fight with this launch.

Zacks Rank

Currently, Microsoft carries a Zacks Rank #3 (Hold). You can see the complete list of today's Zacks #1 Rank (Strong Buy) stocks here.
More Stock News: 8 Companies Verge on Apple-Like Run
Did you miss Apple's 9X stock explosion after they launched their iPhone in 2007? Now 2017 looks to be a pivotal year to get in on another emerging technology expected to rock the market. Demand could soar from almost nothing to $42 billion by 2025. Reports suggest it could save 10 million lives per decade which could in turn save $200 billion in U.S. healthcare costs.

A bonus Zacks Special Report names this breakthrough and the 8 best stocks to exploit it. Like Apple in 2007, these companies are already strong and coiling for potential mega-gains.
Click to see them right now >>
Want the latest recommendations from Zacks Investment Research? Today, you can download 7 Best Stocks for the Next 30 Days.
Click to get this free report
Hewlett Packard Enterprise Company (HPE): Free Stock Analysis Report
Amazon.com, Inc. (AMZN): Free Stock Analysis Report
Alphabet Inc. (GOOGL): Free Stock Analysis Report
Microsoft Corporation (MSFT): Free Stock Analysis Report
To read this article on Zacks.com click here.
Zacks Investment Research