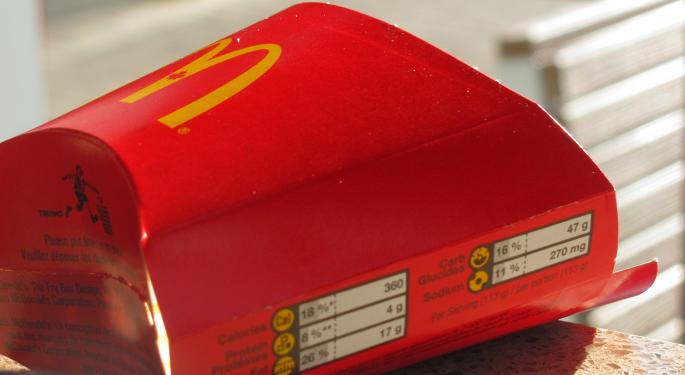 McDonald's Corporation MCD released its Q2 results on Tuesday morning. The fast food leader reported GAAP earnings per share of $1.25 and revenues of $6.265 billion. Analysts had a revenue estimate of $6.27 billion. McDonald's also reported Q2 Global Comps were up 3.1 percent.
Many investors feared McDonald's would experience margin pressure from increased wages causing EPS to disappoint. Additionally, experts had been skittish on whether the Brexit impact, a strong dollar and repositioning costs had taken a toll on McDonald's Q2 revenues.
Unlike McDonald's performance over the last three quarters where it beat estimates, the company's underperforming earnings report confirmed investor fears.
"Our second quarter performance, which marks our fourth consecutive quarter of positive comparable sales across all business segments, provides a clear indication that customers are responding to the steps we're taking to deliver the menu and value options they want at the convenience of McDonald's," said President and Chief Executive Officer Steve Easterbrook.
"We're making steady progress on transforming our business to satisfy the needs of our customers around the world, despite a challenging environment in several key markets," stated Easterbrook
At time of writing, McDonalds's traded at $123.25 in Tuesday's pre-market session, down 3.2 percent.
© 2016 Benzinga.com. Benzinga does not provide investment advice. All rights reserved.