The Euro Area (EA18)
did not grow in the second quarter, with GDP growth rate coming in at 0.0% compared to Q1, where we saw a 0.2% growth. Compared to Q2 2013, growth was 0.7%. 
Germany
is the largest economy in the region, and it showed contraction in Q2, with GDP growth at -0.2%. Economists had forecast a -0.1% reading after a print of 0.8% in Q1. 
French GDP growth in Q2 came in at 0.0%, making that 2 quarters of no growth. Forecasts called for a 0.1%. 

Italian GDP growth in Q2 came in at -0.2% after a reading of -0.1% in Q1, officially putting it in recession. Cyprus and Romania are the other two countries in the EA18, that are in recession.

Spain actually showed GDP growth of 0.6%, after a reading of 0.4% in Q1.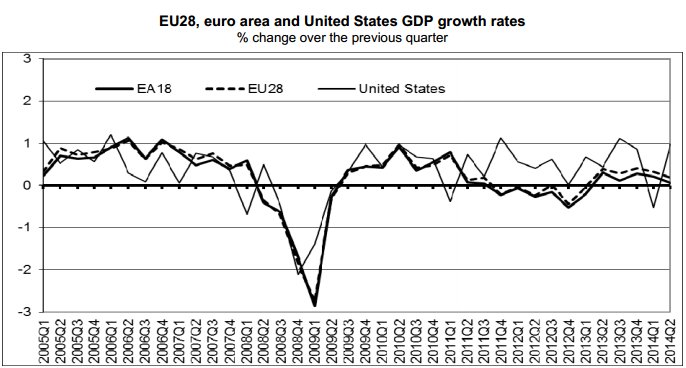 (source:
eurostat
)
While US GDP has recovered from a Q1 blip, Euro Area GDP looks steadily trending back towards contraction, continuing the pressure on the European Central Bank to act. If Germany ends up in recession, that is very likely. But the ECB might not even need the complete Q3 GDP picture. Sanctions that started recently against Russia will surely challenge the already vulnerable economy in the Euro Area as a whole.