Momenta Pharmaceuticals Inc. MNTA reported a loss of 50 cents per share in the second quarter of 2017, in line with the Zacks Consensus Estimate. The reported loss was, however, wider than the year-ago loss of 31 cents.
Momenta Pharmaceuticals, Inc. Price and EPS Surprise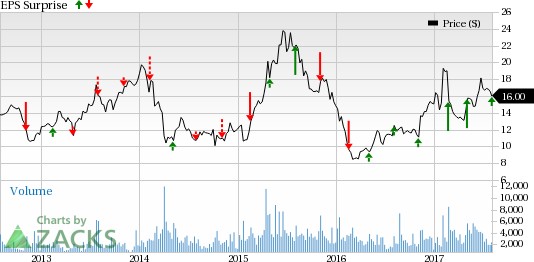 Momenta Pharmaceuticals, Inc. Price and EPS Surprise | Momenta Pharmaceuticals, Inc. Quote
Revenues in the quarter improved 10.8% to $23.6 million and topped the Zacks Consensus Estimate of $22.9 million.
Momenta's stock has rallied 6.3% year to date compared with the industry's rally of 9.9%.

Quarter in Detail
Momenta's top line comprises product revenues of $19.1 million earned from Sandoz's sales of Glatopa, a generic version of Copaxone (20 mg), compared with $20.7 million in the year-ago quarter. The decrease was primarily due to lower sales deductions in the second quarter of 2016, as well as legal reimbursement in the second quarter of 2017.
Collaborative research and development revenues came in at $4.4 million, down from $5.8 million in the year-ago quarter. The decline in revenues was mainly due to the termination of the Baxalta Collaboration Agreement, effective Dec 31, 2016.
While, research and development expenses were up to $39.1 million from $33.2 million, general and administrative expenses increased 52% to $22.6 million.
Outlook Updated
Momenta now expects operating expenses (excluding stock-based compensation and net of collaborative revenues) in the range of $210–$230 million, compared with the previous guidance of $200–$240 million in 2017. The guidance also includes approximately $55 million of capital expenditure on M923. Operating expenses in the third quarter of 2017 are projected around $50–$60 million.
Momenta expect to generate revenues of $45 million from Mylan N.V. MYL as upfront payment on a quarterly basis. In Jul 2017, Momenta earned a $10 million milestone payment from Sandoz as Glatopa 20 mg continues to be the sole FDA-approved generic of Copaxone 20 mg.
Pipeline Update
Sandoz's abbreviated New Drug Application (ANDA) for the 40-mg thrice-weekly formulation of Copaxone (Glatopa 40mg) was under the FDA review. However, Momenta suffered a setback with the FDA issuing a warning letter to Pfizer Inc. PFE in Feb 2017, which is Sandoz's contracted fill/finish manufacturing partner for Glatopa.
Pfizer has submitted a comprehensive response to the observations cited in the warning letter. The ANDA approval is now contingent on the satisfactory resolution of the compliance observations stated in the warning letter issued to Pfizer.
Meanwhile, Momenta continues to progress with its other pipeline candidates. Currently, Momenta's M923, a biosimilar version of AbbVie, Inc. ABBV Humira, is being evaluated in a phase III study in patients suffering from moderate-to-severe chronic plaque psoriasis. Moving ahead, the company plans to submit the candidate for approval to regulatory bodies in the fourth quarter of 2017. Also, it expects first commercial launch of M923 to be as early as the 2020 timeframe.
The company completed enrolment in the phase I study on M834, a biosimilar version of Orencia (abatacept) in Apr 2017 under its collaboration with Mylan. Top-line data from the study are expected in the second half of 2017.
Furthermore, Momenta's novel autoimmune portfolio includes: M230, a Selective Immunomodulator of Fc receptors (SIF3) and M281, an anti-FcRn monoclonal antibody. In Jan 2017, the company entered into a research collaboration and license agreement with CSL for M230 and potential future Fc multimer programs. The candidate is expected to enter clinic in 2017.
Momenta successfully completed a phase I single ascending dose study in healthy volunteers for M281. The multiple ascending dose portion of the study was initiated in Jan 2017 (expected to be completed in Aug 2017) and data from the single and multiple ascending dose portions of the study are projected in the second half of 2017.
Our Take
Momenta's loss per share came in line with estimates in the second quarter of 2017 while sales beat estimates. The ANDA approval for Glatopa is contingent on the satisfactory resolution of the compliance observations stated in the warning letter issued by the FDA, resulting in a delay of approval. We expect the warning letter will remain a drag on the company's shares till the issue is solved.
Nevertheless, sales of Glatopa 20mg continue to do well. Glatopa 20mg has captured approximately 40% of the market in the U.S. In addition, a potential approval of M923 will boost investor confidence.
Zacks Rank
Momenta currently carries a Zacks Rank #3 (Hold). You can see the complete list of today's Zacks #1 (Strong Buy) Rank stocks here.
More Stock News: Tech Opportunity Worth $386 Billion in 2017
From driverless cars to artificial intelligence, we've seen an unsurpassed growth of high-tech products in recent months. Yesterday's science-fiction is becoming today's reality. Despite all the innovation, there is a single component no tech company can survive without. Demand for this critical device will reach $387 billion this year alone, and it's likely to grow even faster in the future.
Zacks has released a brand-new Special Report to help you take advantage of this exciting investment opportunity. Most importantly, it reveals 4 stocks with massive profit potential. See these stocks now>>
Want the latest recommendations from Zacks Investment Research? Today, you can download 7 Best Stocks for the Next 30 Days.
Click to get this free report
Pfizer, Inc. (PFE): Free Stock Analysis Report
AbbVie Inc. (ABBV): Free Stock Analysis Report
Momenta Pharmaceuticals, Inc. (MNTA): Free Stock Analysis Report
Mylan N.V. (MYL): Free Stock Analysis Report
To read this article on Zacks.com click here.
Zacks Investment Research